Insulated Crock Pot Carrier Tote Review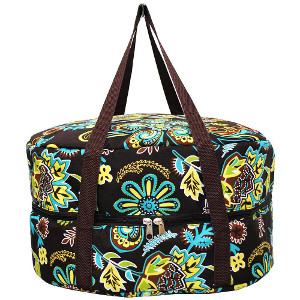 Insulated Crock Pot Carrier Tote
Provided by Country Lane Bling
www.countrylnbling.com
Reviewed by Kaitlin Weiler

Anyone who loves their slow cooker knows that their love comes with a price. Slow cookers help you make effortless and delicious meals, but transporting those meals is nearly impossible. Country Lane Bling's Insulated Crock Pot Carrier Tote allows you to take your slow cooker on the go without hassle or worry.

Most slow cookers fit comfortably inside the Insulated Crock Pot Carrier Tote. The carrier measures 15 inches long by 12 inches wide by 8.5 inches high, so there will be plenty of room for your cooker. The tote also comes in various designs and colors, so you are guaranteed to find one that matches your personal tastes.

Once nestled inside the Insulated Crock Pot Carrier Tote, your slow cooker can be secured down with the interior strap. With the strap in place, you can be rest assured that neither the slow cooker nor the slow cooker's lid will budge during transportation. The straps on the outside of the tote also allow for easy carrying and lifting.

You can carry your slow cooker with style and with ease once you have the Insulated Crock Pot Carrier Tote. You will love being able to handily move your slow cooker from home, to party, and back, while keeping the slow cooker and food warm and without risking disastrous spillage. With the Insulated Crock Pot Carrier Tote, you and your slow cooker will be the life of every party.

Your Recently Viewed Recipes