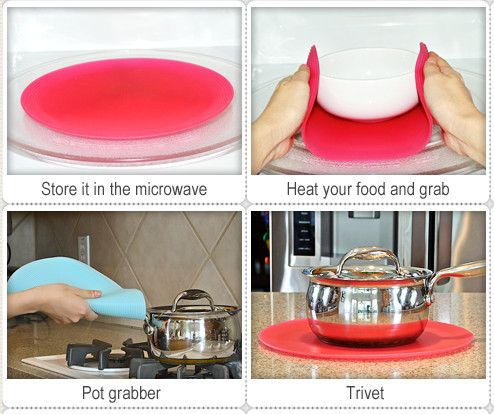 Micro Easy Grab Review
Gifted by: Micro Easy Grab
www.microeasygrab.com
Reviewed by Blair Chavis, Editor of AllFreeSlowCookerRecipes.com
The Micro Easy Grab is a flexible, silicone mat that offers multifunctional solutions for handling hot foods in the kitchen. This silicone mat is BPA-free and ideal for microwave cooking, but it can be used in a variety of cooking contexts, from stove-top cooking to something as simple as opening a jar. The Micro Easy Grab is dishwasher-safe, and it can be easily stored in a microwave or cabinet.
The Micro Easy Grab, on its own, eliminates the need for so many other kitchen items, such as place mats, oven mitts, trivets, spoon rests, and more. This light, squishy and colorful silicone disc does the job of all of these items. One side of the Micro Easy Grab has raised, concentric ridges, which make gripping the mat easy. The other side of the silicone grabber is smooth, and makes contact with your hot container or pot.
To use the Micro Easy Grab, you can place the mat on your microwave plate, and then place the item to be cooked. Once your dish is done cooking, you simply need to lift the sides of the Micro Easy Grab, and pull out your hot item from the microwave. The Micro Easy Grab is flexible and won't slip, like an oven mit might. I find that oven mitts are often unforgiving and clumsy, especially when traying to pull a handle-less bowl out of the microwave. The MIcro Easy Grab elminates awkward and dangerous grabbing of hot items and will reduce the chance of getting scolded by piping-hot food. Not to mention, cloth oven mitts often get wet, and then they are less protective against extreme heat. Liquid wouldn't have such a negative effect on this silicone mat. Not to mention, many oven mitts can't protect against extremely hot handles. The Micro Easy Grab can withstand up to 450 degrees F.
It's easy to store the Micro Easy Grab in your microwave. If you leave it there, you can heat a variety of items on the mat, without getitng your actual microwave turntable dirty. It's much easier to rinse off this silicone mat and toss it in the dishwasher, than spend time scrubbing the glass turntable. You could also use the Micro Easy Grab to cover a cooking dish, to catch splattering.
The Micro Easy Grab is great for microwave cooking, but it truly has so many other applications. Just as I find it clumsy to use mits with bowls in the microwave, I also find that sometimes my mitts fail me when grabbing pot handles. Either my mitt has gotten wet and isn't as heat resistant, or it's just clumsy when I'm trying to grab a heavy saucepan. The Micro Easy Grab provides a strong, slip-less grip for pot handles that's really remarkable. Because the silicone material is flexible, it conforms to to the task at hand.
Similarly, I've even tried using the Micro Easy Grab to loosen a tight jar, and it rescued me after much struggling! I got a good grip on a tight pickle jar, thanks to the Micro Easy Grab and was able to open it with far less effort than I normally might need.
Finally, the Micro Easy Grab is a great in a pinch, when you need a trivet or utensil rest. It's large enough to serve as a trivet for a moderately large pot or hot plate. And, it has a large enough surface area to trap dripping food from a big serving spoon. In one cooking session, you can use the Micro Easy Grab in so many different ways. Not to mention, you can also use it as a placemat once your food is cooked!
The Micro Easy Grab comes in both 10-inch and 12-inch sizes in four colors: Luscious Red, Powder Pink, Lemonade, and Sky Blue. While supplies last, one can order a 12-inch Micro Easy Grab on the Web site and receive a 10-inch (Lemonade-colored) Micro Easy Grab free.
Enter to win a free Micro Easy Grab (10-inch; Luscious Red) from 5/25/14 through 6/07/14.
Free recipes, giveaways, exclusive partner offers, and more straight to your inbox!
Tags / Related Topics
Your Recently Viewed Recipes

Something worth saving?
SAVE all your favorite recipes
ADD personal notes
QUICKLY reference your recipes