Overnight Egg Brunch Casserole
This slow cooker breakfast casserole would be great for feeding holiday brunch to a crowd!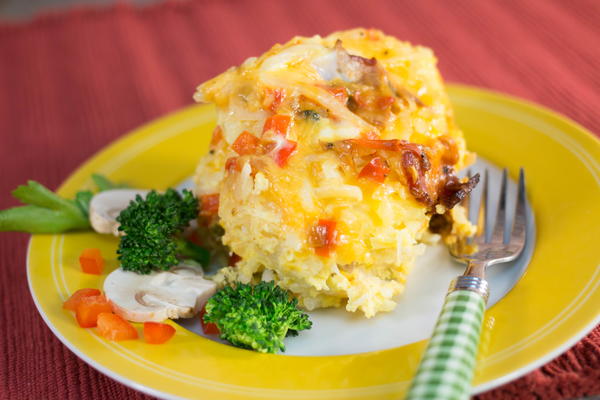 Overnight Egg Brunch Casserole
We know our readers can't get enough of this Overnight Egg Brunch Casserole recipe, so we decided to whip it up in our test kitchen and add our own special flair. This slow cooker breakfast casserole is made with layers of hash browns, sauteed vegetables, fluffy eggs and gooey cheese. After frying the bacon and chopping up the vegetables, the assembly of this casserole is a breeze.

The great thing about slow cooker breakfast recipes like this one is that everyone's breakfast can be made in one batch. Because the slow cooker can cook such a large amount of food at once, the whole family will be able to sit down around the table and enjoy a warm meal together (no waiting for batches of pancakes or eggs to cook).

And don't even get us started on how good the leftovers are! The original recipe calls for the casserole to be cooked on LOW for 10 hours (or overnight). If you are short on time cook it on HIGH for 4 hours. You will get the same results. Try this recipe for an upcoming breakfast menu! It will not dissappoint.
Serves8
Slow Cooker Time HIGH4 hr 30 min
Slow Cooker Time LOW10 hr
Ingredients
8 strips bacon
1 onion, peeled and chopped
1 clove of garlic, peeled and minced
1 red bell pepper, seeded and chopped
1 cup broccoli, chopped
1 cup mushrooms, chopped
2 (1-pound) bags frozen hash browns
1

1

/

2

cup shredded Cheddar or Cheddar Jack cheese (you can double this amount for more cheesy flavor)
12 eggs
1 cup 2% milk
1 teaspoon dried dill

1

/

2

teaspoon salt

1

/

2

teaspoon pepper
Instructions
Assemble the ingredients.

Cook strips of bacon until crispy. After cooling the bacon on a plate with paper towel, chop it up into ½-inch strips.

Chop up onion, garlic, bell pepper, broccoli and mushrooms.

Saute the five chopped vegetables in a large skillet for 5 minutes, or until slightly tender.

Spray your slow cooker with non-stick cooking spray.

Place one-third of the hashbrowns into the bottom of the slow cooker and season with salt and pepper.

Layer one-third of the vegetables and one-third of the cheese on top of the potatoes.

Repeat these steps until the ingredients are used up, ending with a layer of cheese on top.

In a large bowl, mix together eggs, milk, dill, salt and pepper.

Pour the liquid mixture over the top of the ingredients in the slow cooker.

Place a piece of paper towel beneath the lid of the slow cooker to absorb excess moisture as it cooks.

Cover the slow cooker, and cook on HIGH for 4 ½ hours or LOW for 8-10 hours.

After the time has elapsed, a thermometer inserted in the middle of the bake should read 160 degrees F.

Serve this easy egg casserole with fresh fruit, and enjoy!
Your Recently Viewed Recipes