8 of Our Best Slow Cooker Pot Pie Recipes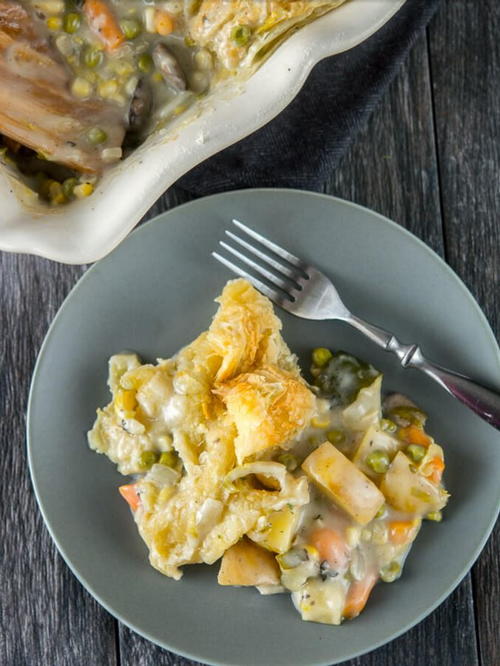 When it comes to comfort food, nothing hits the spot like a good pot pie recipe. The easy pot pie recipes below will change the way you think about classics like the original chicken pot pie. Why? First of all, all of these pot pie recipes are made in the slow cooker making the meat and veggies unbelieveably tender. Secondly, there are more recipes to choose from than just chicken. We've included a delightful turkey pot pie, ideal for using up those leftovers after Thanksgiving, and even one with pork and apples, which is perfect for bringing the essence of fall into your home. No matter what kind of pot pie you decide to make, we're sure you'll be comforted deep down and completely satisfied long after the plates have been cleared.
8 of Our Best Slow Cooker Pot Pie Recipes
---
For more comfort food classics, try our collection, 15 Slow Cooker Creamy, Smothered Comfort Food Recipes.
---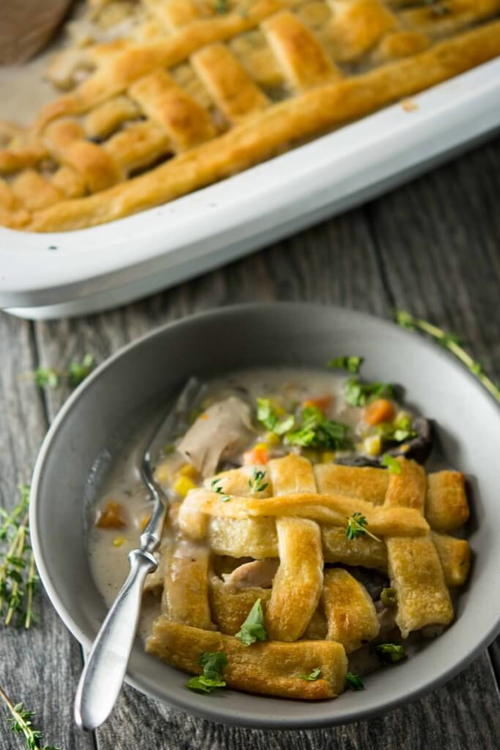 Home "Baked" Chicken Pot Pie
Once you try this Home "Baked" Chicken Pot Pie, we're sure it's going to be the only chicken pot pie recipe you'll keep handy. This is easily the best chicken pot pie recipe we ever seen for the slow cooker, and we think you'll agree. This recipe allows you to make this dish for a whole crowd without any extra hassle. The lovely criss-cross crust adds the perfect touch, making this pot pie feel just like the homemade versions your mother or grandmother made. Grab a spoon and dig right in.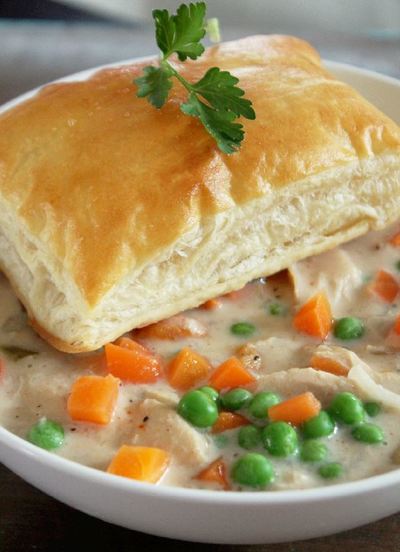 Southern-Style Slow Cooker Chicken Pot Pie
This slow cooker chicken pot pie recipe for Southern-Style Slow Cooker Chicken Pot Pie is a classic chicken pot pie recipe with a southern spin! Creole seasoning, cayenne, and crushed peppers give this dish an extra savory punch of flavor. This delicious chicken pot pie recipe also includes the classic ingredients you know and love, such as chicken breast tenders, celery, carrots, and peas. Puffed pastry makes the "crust," and is the perfect topping to this creamy dish.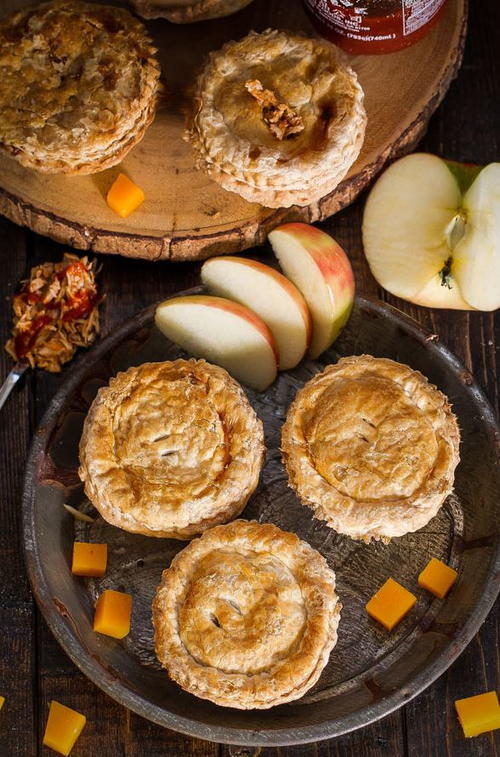 Mini Pulled Pork Pot Pies
Try something new and exciting with this recipe for Mini Pulled Pot Pies! This slow cooker recipe has pulled pork with bold sweet and spicy flavors all wrapped up in a deliciously flaky puffed pastry. This is the ultimate appetizer for a casual dinner party. Everyone will be amazed by the genius combination of pulled pork and pot pies. This recipe uses complex flavors in the pulled pork like sriracha sauce and maple syrup for a sweet and spicy combo everyone is sure to remember.

---
Chicken dinner recipes are so delicious and easy to make. See our full collection here.
---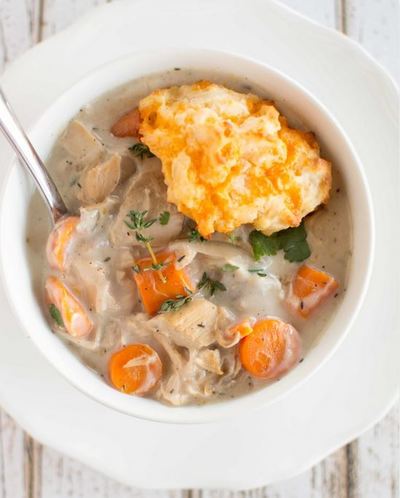 Comforting Turkey Pot Pie
Try this Comforting Turkey Pot Pie for an easy turkey pot pie recipe that will bring you back to your childhood. The warm and cozy flavors come together with homemade biscuits for a slow cooker turkey pot pie you'll fall in love with. This super creamy pot pie is made even more delicious with the addition of sharp Cheddar cheese, carrots, onion, and garlic. This is the perfect recipe to make for a Sunday night dinner, or on a cold winter night when you need some old-fashioned comfort food.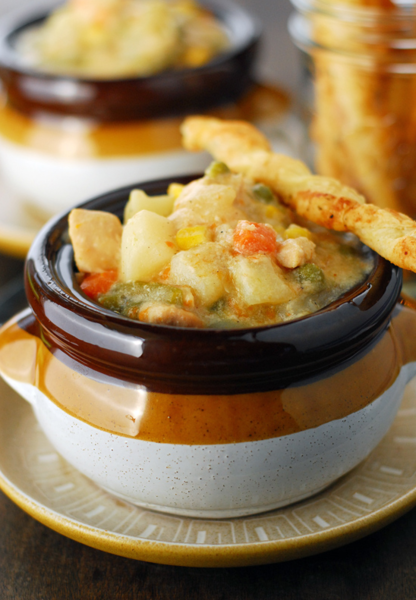 Hearty Chicken Pot Pie Soup
When the weather starts to get chilly, nothing hits the spot like a bowl of Hearty Chicken Pot Pie Soup. This slow cooker chicken pot pie stew recipe delivers those incredible and comforting flavors you love in a few simple steps. This recipe calls for the creation of a homemade cream of chicken soup base -- how awesome is that? If you happen to be short on time, you can use store-bought condensed cream of chicken soup, and you'll achieve a similar flavor. This is a wonderfully comforting soup that is hearty enough to eat for dinner or anytime you need a break from the cold weather outside.

Chicken and Mushroom Pot Pie
Chicken and Mushroom Pot Pie is the perfect delicious and warm comfort meal for any brisk evening. This recipe takes the classic chicken pot pie recipe and updates it with the addition of hearty mushrooms. This delicious slow cooker pot pie is also convenient for a weeknight meal because it uses store-bought puff pastry. You won't be slaving away over a hot stove or oven with this recipe for Chicken and Mushroom Pot Pie.

Turkey and Cranberry Pot Pie
Combine the savory flavor of turkey and the sweet and tart tanginess of cranberry to create this recipe for Turkey and Cranberry Pot Pie. This easy slow cooker pot pie recipe is specially designed for to using up those Thanksgiving leftovers in a creative and delicious way. Add in leftover veggies from your holiday spread, and you'll have a complete meal thrown together in an individual-sized dish that will please the whole family after the big feast has ended.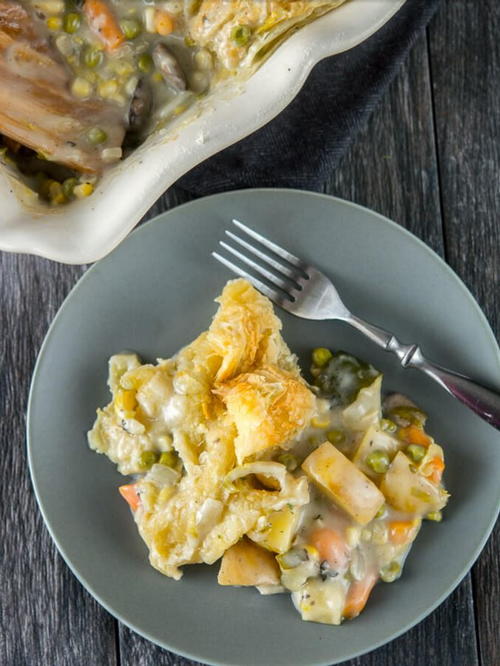 Slow Cooker Veggie Pot Pie
If you're stumped on what to make for dinner tonight, give this easy slow cooker recipe for Slow Cooker Veggie Pot Pie a whirl! It's a great recipe for Lent or just to help you eat more veggies. It's super easy and fun to make. This is a great recipe for kids to help with! You'll love the flaky crust and the creamy inside of this pot pie. It's so rich and flavorful. Pot pies can be tricky to make in the oven, but they're super simple in the slow cooker.

Your Recently Viewed Recipes