The Professional Chef, Ninth Edition Review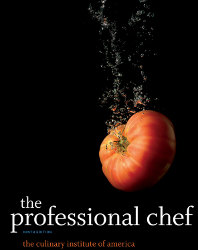 "The Professional Chef, Ninth Edition is a true treasure for any professional chef or home cook to have in the kitchen. This reference guide and recipe book, spanning more than 1,200 pages and nearly 800 recipes, with countless techniques and lessons, has everything a cook would ever need to know and perhaps doesn't know to ask, from identifying meats and how to cut them, to basic sauces and cooking techniques. I love that there are entire chapters on cooking eggs and also on salad dressings and salads as well! The book additionally gives advice to beginners who want to go into the culinary profession. It's rare that you will find a text so complete with information. Yet, it's very reader-friendly, with fantastic photographs. There's something for everyone in this book, with measurement conversions and even healthy conversions. The book even provides lessons on types of knives and other kitchen utensils. Any person who is passionate about food should get their hands on The Professional Chef."
"The Professional Chef is the indispensable reference guide for any serious foodie. Encyclopedic in its size and scope, this valuable book literally shows you how to cook everything, whether you're braising beef, poaching fish or making fresh pasta. You'll love the gorgeous photos that accompany technique descriptions, plus there's almost 800 recipes included. Designed to help chefs understand basic cooking skills, this text from The Culinary Institute of America is also a fantastic resource for any home kitchen. The Professional Chef is one of those books you'll turn to again and again for tips on technique as well as hundreds of classic and contemporary recipes."
"The Professional Chef: Ninth Edition is a stunning piece of work. Though perhaps a bit daunting for a culinary dabbler or amateur, this tome is nothing short of biblical in its scope for an aspiring chef or anyone who is serious about cuisine. Complete with dazzling photographs and an aesthetically pleasing layout, the book is just as impressive to look at as it is to use. Each recipe is meticulously detailed, with conversions for every ingredients as well as flawless, foolproof guidelines.
Interspersed among chapters ranging in topic from vegetables to every imaginable dessert are detailed techniques ("Method in Detail") for preparing all types of ingredients for a vast array of cuisines and cultural traditions. Many recipes also offer variations to accentuate certain flavors or to improve the nutritional value of the dish. A few recipes in particular caught my eye, including the Poached Trout with Saffron Mousse and the Lasagna al Forno. This book is truly a gem!"
"When you first see The Professional Chef, it's a little intimidating. It's over two inches thick, at least 10 pounds, and more book than most of us can handle (and that's coming from a former lit major). But it's worth every single one of its 1,200 pages. About ten minutes after I cracked open this book, I was looking it up on Amazon and sending the link to my family members with the subject line "Christmas wish." The Professional Chef has every smidge of information you could ever want to know about food, cooking, the culinary world, and even food science. It's an encyclopedia of kitchen supplies, cuts of meat, fruits and vegetables, and sauce recipes. As I flipped through the pages packed with full-color photos and detailed instructions, I had the feeling that if I read this book from cover to cover and cooked every single recipe, I would end up better off than if I had attended culinary school. This book is a bible for the home cook who wants to go beyond thirty-minute meals cobbled together from packaged foods and learn the fundamentals of good cooking. It teaches the basic skills that often escape my generation -- things like butchering a piece of meat, making a mayonnaise, cooking caramel, poaching an egg, making a roux, or blending pastry. More than that, it teaches you what you can do with these skills. Every section of the book starts with basic recipes and tutorials and then expands to variations on those basics. You will then find an array of delicious recipes that will allow you to practice and demonstrate the skills you have learned. What I was most impressed by in this book was the immense scope of the recipes and techniques it included. Cuisine ranged from traditional French cooking to Asian fusion without skipping a beat, and I was pleased to find recipes that are now out of fashion, such as aspics, right alongside trendier foods like amaranth salads. This book is about food and cooking as a whole, and it treats each ingredient and technique with the objective appreciation unique to a true gourmand."
"If you have had any interest in anything related to cooking and food ever, this is the book for you. I think this monster 1,200+ page book covers just about every topic imaginable when it comes to food. From the proper way to fillet a whole fish to proper vegetable cutting to more recipes than what you know what to do with, this book has got it all. I just loved how thorough this volume was at covering every cooking topic.
No need for the Internet anymore, as this book will answer all of your questions. Its target market is chefs and culinary enthusiasts, but even home cooks will appreciate the sheer volume of information and cooking know-how in this book."

Click here for more information on The Professional Chef book giveaway.



Free recipes, giveaways, exclusive partner offers, and more straight to your inbox!
Your Recently Viewed Recipes

Something worth saving?
SAVE all your favorite recipes
ADD personal notes
QUICKLY reference your recipes