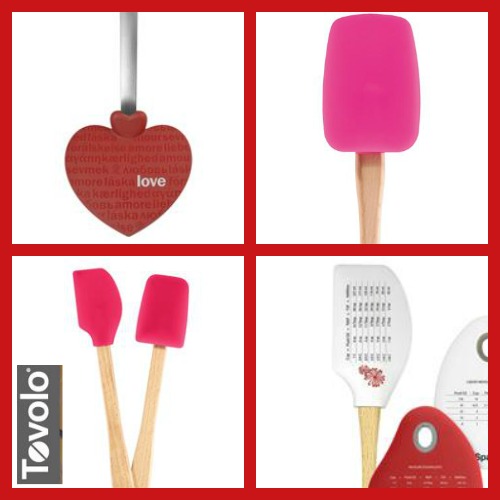 Tovolo Spatulas Review
Provided by Tovolo
www.tovolo.com
Reviewed by Blair Chavis
Tovolo's spatula line addresses both form and function with colorful, cute, and useful designs. Tovolo's spatulas will brighten and add cheer to your cooking experience and also make food preparation easier! I'm impressed wtih the breadth of spatula designs Tovolo offers. Depending on the cooking task at hand, you can mix and match Tovolo spatulas for different uses.
Tovolo has a wide array of Spatulart®, including spatulas with faces on them, animals, and even spatulas that are shaped like flowers, butterflies, bees, and more. If you're baking for holidays, such as Halloween or Christmas, Tovolo has fun pumpkin- and gingerbread-shaped spatulas, along with many other quirky designs. For the purpose of this review, I'll focus on the sputlas featured, left.
Spatulart® Heart Nylon Flex Turner:
Tovolo's Spatulart® Hearty Nylon Flex Turner (shown above, upper left), is a cook's homage to love. The turner's face features "love" spelled out in several languages. Your heart will flip as you cook! This nylon, nonstick spatula is thin, but durable, which is ideal for use when grilling sandwiches or making cookies. The stainless steel handle is sturdy and makes the act of flipping large objects an easy one! "Made with love" will take on a whole new meaning when using this adorable, heart-shaped spatula.
Silicone Spoonula:
Tovolo's Silicone Spoonula (shown above, upper right) is an amazing tool! One of the troubles I often face when using a spatula, is that I wish it could scoop my mixture better. The scoop element in this Tovolo Spoonula makes scraping and transferring food so much easier! Ideal for mixing, scooping, and serving (you won't need three different utentils!), Tovolo's Silicone Spoonula has tapered edges and a concave shape. This design allows you to do pretty much everything! Not to mention, this Spoonula has an ergonomically shaped handle, which makes handling the spatula a really enjoyable and comfortable experience. The wood on the handle is incredibly smooth! I'm not someone who usually enjoys wooden handles, and this spatula might be a game-changer! If you're handing heavy batter or sauce, your hand won't tire quickly, because this spatula is light-weight. Plus, you'll have less cleaning to do after, as you can use this Spoonula as a mixing spoon too!
Mini Silicone Spatula and Spoonula Set:
Tovolo's Mini Silicone Spatula and Spoonula set (shown above, lower left) is both so cute and so handy! Sometimes, a large spatula just won't do, especially when you're dealing with small surfaces, or surfaces with a lot of tight corners. These little spatulas are so handy for tasks such as icing! The mini spoonula has tapered edges, which gives it a double function as a mixing spoon for small quanities. You can also use it to scoop and scrape small quantities out of tightly-spaced containers, such as jars. With these mini spatulas, you won't have to dirty a bunch of utensils or spoons. They can handle the toughest of "small" jobs!
Spatulart® Measurement Conversion Spatula:
Tovolo's Spatulart® Measurement Conversion Spatula (shown above, lower right) is a miraculous tool! Ideal for mixing, folding, serving, spreading, scraping, and flipping. If you purchase one spatula for your kitchen, this is the one you should get. Not only does it have a handy and easy-to-read cooking coversion chart printed right on its surface, it's also just so easy to use! This spatula has a square corner, which helps it to navigate tight places and tapered edges. It has a sharp point to making scraping a cinch. This spatula is light-weight, but it is durable enough to use with heavy and thick foods. The wooden handle is smooth and contoured perfectly for a grip of any size. I love this spatula!
Whether you get one of Tovolo's unqiue spatulas or a whole set, you'll find that Tovolo's spatulas are incredibly easy to use and just so darn cute.
Your Recently Viewed Recipes