"Cooking on a Budget: 12 Slow Cooker Budget Dinner Recipes" Free eCookbook
Get thrifty dinner recipes you can make any night of the week in your slow cooker with our printable collection, Cooking on a Budget: 12 Slow Cooker Budget Dinner Recipes free eCookbook. In our free eCookbook filled with budget slow cooker recipes, you'll find a variety of inexpensive slow cooker recipes to try for weeknight meals, entertaining, and snacks. Included, are budget appetizer recipes, budget dinner recipes, and sweet budget dessert recipes.
If you're cooking on a budget, it doesn't mean you have to skimp on taste. Our budget slow cooker recipes prove that cheap eat recipes can be flavorful, easy and inexpensive. Our free eCookbook, packed with low-cost slow cooker recipes, includes thrifty dinner recipes for every season and mood. By downloading our free eCookbook, you'll have access to delicious recipes you can make no matter your budget.
"Cooking on a Budget: 12 Slow Cooker Budget Dinner Recipes" free eCookbook
Table of Contents

Budget Appetizer Recipes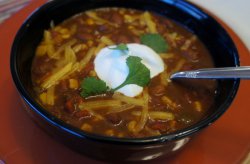 The budget appetizer recipes found inside this eBook are great all year round. These cheap and easy appetizer recipes, soups and more are surprisingly easy to make, and they're wonderfully inexpensive. You'll love our selection of slow cooker chili recipes, including this recipe for Dollar Store Kickin' Chili (shown left). If you're not starving, but still want a meal that's flavorful and that will satisfy, this chapter of budget meals is perfect for you.
Budget Dinner Recipes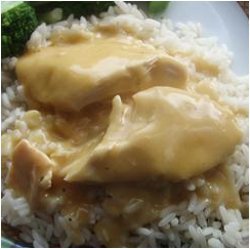 Our chapter on budget dinner recipes has a tasty variety of slow cooker main dishes that are as creative as they are frugal. Whether you're interested in budget chicken recipes, casserole recipes, pasta recipes, or even ground beef recipes, this chapter includes them all. Our budget dinner recipes come from various influences, including Italian, Mexican, and more. You'll love our selection of budget chicken recipes, including our delightful Dump and Go Cheesy Chicken (shown left). It's simple to prepare and tastes delicious. What else could you want in a thrifty meal?
Budget Dessert Recipes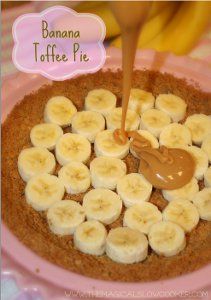 Our budget dessert recipes chapter has a fun variety slow cooker dessert recipes to try, that won't cost a lot to make. For instance, readers go wild for our Slow Cooker Banana Toffee Pie (shown left), which serves 6, and includes simple, cheap ingredients such as graham crackers and sweetened condensed milk. There are a variety of other deliciously cheap ways to prepare dessert in your slow cooker inside this free eBook, such as a slow cooker version of rice krispie treats, and tasty apple dumplings.
Need Help Downloading?
You can easily download and print out each eCookbook for easy reference while cooking. For help downloading our eCookbooks, see our help document here.

Don't Miss Our Other Free eCookbooks!
If you enjoyed this free eBook, you won't want to miss any of our other downloadable recipe collections. You can browse our entire library of free eCookbooks here.

Sign Up For Our Free Newsletter
With your free copy of our Cooking on a Budget: 12 Slow Cooker Budget Dinner Recipes eCookbook you can also subscribe to our newsletter The Slow Cooker Chronicle to become part of the wonderful slow cooker community. In subscribing to the newsletter you will receive:

Weekly emails with slow cooker recipes, tips, collection pages and more.
Chances to win cooking books and products from our weekly giveaways and contests.
New FREE recipes made available to you throughout the year.
Access to our free recipe library full of hundreds more free recipes.
The opportunity to share ideas and help others in the cooking community.
Once you get your copy, you can keep it on your computer or tablet or print it out and keep it in your kitchen. No matter how you use your eCookbook, once you've tried even one of the recipes, you'll be glad you downloaded it.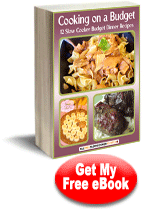 Download your free copy of the Cooking on a Budget: 12 Slow Cooker Budget Dinner Recipes eCookbook today!
Your Recently Viewed Recipes