Chicken and Broccoli "Stir Fry"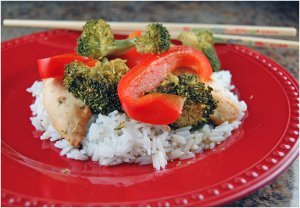 Chicken and Broccoli
Chicken and Broccoli "Stir Fry" is one of those easy slow cooker Chinese food recipes that's a great, budget-friendly alternative to ordering take-out. You can whip up this recipe in no time with just a few simple ingredients, such as chicken, stir fry sauce, broccoli, and bell pepper. Serve it over rice, and you'll have a complete and tasty Asian-style meal. This is a wonderful dish to add to your monthly meal plan. It is easy prepare your ingredients the night before, drop them into your slow cooker when you leave for work, and when you return a hot and delicious meal is ready for serving. What could be better?
Serves6
Your Recently Viewed Recipes