Hot Chocolate for the Holidays: How to Make Your Best Cup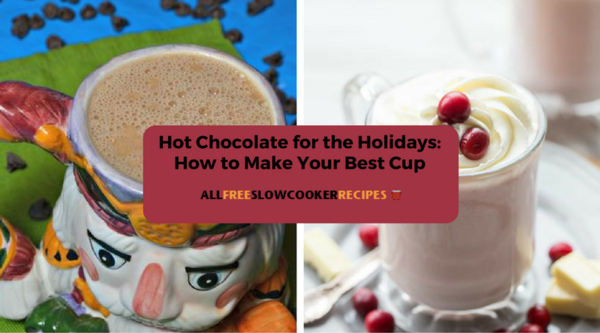 Out of any types of hot drinks for the holidays, hot chocolate will always come out the clear winner of the pack. Most people adore chocolate and it becomes even more enticing when it is served creamy and hot. The key to make the greatest hot chocolate ever is the type of chocolate that is used, the type of milk and the method used in making it. Instant hot chocolate is disappointing compared to making your hot chocolate in a slow cooker.

Simmering your hot chocolate for just the right amount of time is very important to its outcome. We have some wonderful ideas on how to make the most flavorful and most chocolaty hot chocolate recipes in your slow cooker. Take a look at our tips and tricks for making your most thick, delightful, and most memorable cup of hot chocolate over the coming months. We also suggest adding mini marshmallows or whipped cream to top off your perfect cup of chocolate heaven. This magical drink will warm you up and leave you with a glow in your taste buds that you will not soon forget. 
Tips for Making Hot Chocolate
Read about some of our tips and tricks to making the perfect cup of hot chocolate. Learn about how the types of chocolate and the types of milk matter to getting your drink to the most desirable flavor and thickness experience. 
Good chocolate yields good hot chocolate. Adding a higher percentage of chocolate will make a richer and more delicious cup. You should not go under 60 percent of cocoa or beyond 75 percent to 80 percent. 

Adding warm milk or water will help bring out the unique flavors of the chocolate. 

It's just as important to use high-quality milk as it is to use high-quality chocolate. You can taste the difference between milk from a small regional farm and an institutional dairy farm that uses stabilizers in its milk.  

Many hot chocolate mixes are made from cocoa powder, which is what remains of the cacao bean once the cocoa butter is extracted. These are less flavorful than using real chocolate.
 

Bring milk to high heat in a sauce pan but don't let it boil. It could scald the milk and change its consistency.

Be very careful not burn your chocolate. You bring milk to high heat and then pour it over chocolate to prevent burning. Whisk chocolate until it's completely melted.

 
Flavor tips for Hot Chocolate
Here are some ideas on how to bring the desired flavor to your warm and inviting drink. Use some of these guides to help your hot chocolate become the right consistency and flavor to make that perfect cup!
It is possible to make hot chocolate from dark chocolate or white depending on how sweet you want it to be. 

If you want your cup of hot chocolate sweeter, instead of adding sugar, swap out some of the dark chocolate for a milk chocolate.
 

Since the cocoa butter in high quality chocolate is already so rich, it is not necessary to use milk with a higher fat content.

Most hot chocolate recipes are made up of 20 percent chocolate, but for something special you can go a bit higher than that. 

If you prefer a frothy hot chocolate place chocolate in a blender and then pour the hot milk over it and immediately pulse until milk is frothed. 

To provide a velvety sensation in your cup you could use 2 percent milk with a chocolate powder mixture that contains some milk powder and a very small percentage of corn starch in it. 
Hot Chocolate Recipes
We are pleased to share with you some of our favorite hot chocolate recipes. Don't miss out on these unbelievable cups of silky and smooth chocolately goodness. 
Your Recently Viewed Recipes