Broth vs. Stock: What's the Difference?
The bones are more important than you might think!
There is a lot of debate in the cooking world over the difference between stock and broth. There are disagreements over which ingredients should be included and which should be left out. Everything from the seasoning and vegetables to the use of bones is questioned. Luckily, we've outlined the basic differences.

What is the difference between stock and broth?

Broth is made when meat and/or vegetables are cooked in water. Stock is made similarly, but is always made with bones. Stock recipes can also include vegetables, but to be called stock, it must be made with bones.

The most common types of meat broth and stock are chicken and beef. However, broth can be used to refer to any liquid in which something has been cooked. So seafood, vegetables, and more, can also be used to make broth.

Broth and stock can both be made with both bones and meat. However, there is typically more meat in broth, whereas there are more bones in stock.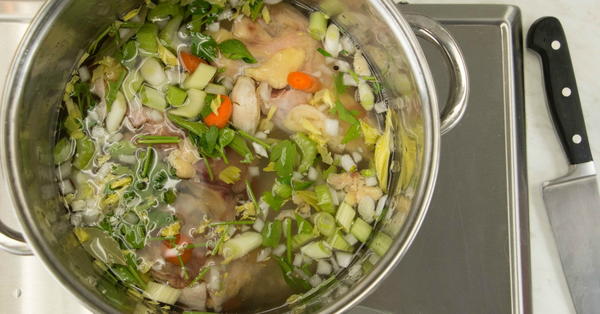 What is Broth?
Can be served on its own. According to Fine Cooking, broth can be served on its own and immediately after it's cooked.
It is usually seasoned, according to The Spruce. The seasoning is also why it can be served on its own.
Broth adds flavor. Since it is cooked with meat, it has a rich and very meaty flavor. It can be used as a replacement for water when cooking pasta or rice.
What is Stock?
Used as a building block in recipes. Stock is rarely served alone and is rather used as a foundational ingredient, especially in more complicated recipes like homemade sauces.
Is often unseasoned. Because stock isn't thought of as the final product, it is commonly unseasoned. The thought is that seasoning will be added along with the stock when it's made into something else.
Stock adds texture to dishes, but doesn't have as much flavor as broth. When the bones and cartilage cook down, they release gelatin, which gives the liquid a thick texture. When cooled, it will have a gelatinous texture. In other words, it will jiggle.
Vegetable Broth vs. Stock
Based on the above definition of stock, there is technically no such thing as vegetable stock since stock must include bones.

The only possible distinction between the two is that vegetable broth is sometimes made from peeled and chopped vegetables. Vegetable "stock" is sometimes made with unpeeled, roughly chopped vegetables and occasionally with peels and other scraps. However, both versions can be referred to as vegetable broth.

Vegetable broth is most commonly used in soup recipes, especially in vegetarian or vegan recipes.

Use vegetable broth to make this Miso Vegetable Zucchini-Noodle Soup.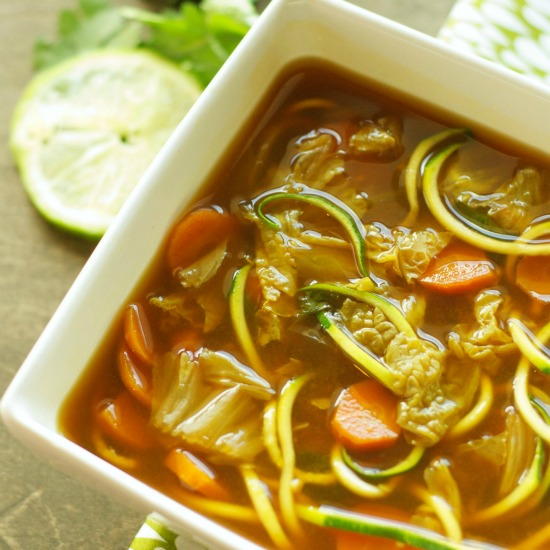 What about Bone Broth?
Bone broth is like a combination of broth and stock, according to an article from Epicurious. It is primarily made from bones but can also include some meat, so it has the thicker texture of stock with the meaty flavor of broth. And since bone broth is usually eaten on its own, it is more similar to broth than stock.

The biggest difference is that bone broth simmers for a longer period of time than broth or stock. In some recipes it can simmer for up to 24 hours! This releases more of the gelatin and nutrients from the bones, which is the main appeal of bone broth.

Try making your own bone broth with the recipe for Rich and Savory Bone Broth below!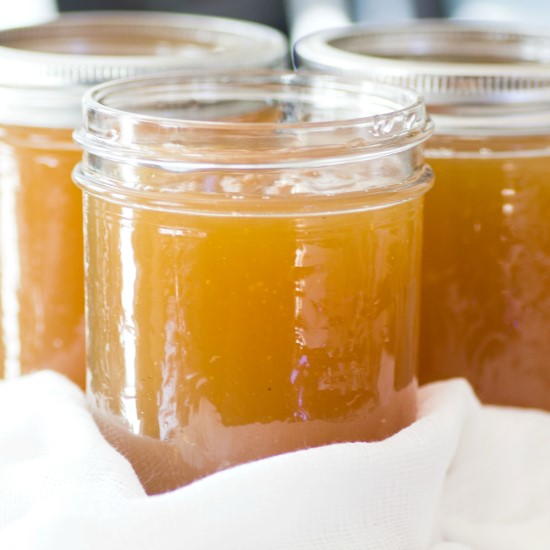 Store-bought Broth vs. Store-Bought Stock
The difference between store-bought broth and store-bought stock isn't as clear as it is between homemade versions. However, there is still a slight difference. But even so, it really depends on the brand, as outlined in this article by Serious Eats.

Store-bought stock rarely has the gelatinous quality of a homemade stock, but if you're looking for something that isn't as salty, choose a store-bought stock over a store-bought broth. This is especially important for homemade sauces, since an already salty broth or stock will taste even saltier once it reduces into a sauce.

If you're looking for something to use in soup, either store-bought stock or store-bought broth will work.

To further complicate your decision: there are often low-sodium, unsalted, and unseasoned versions of both stock and broth. So, the best method is to try a few broths or stocks to see which ones you like the best. Then, choose the appropriate one for the recipe you're making.
Homemade Broth & Stock Recipes
Making broth or stock from scratch gives you complete control over the flavors and ingredients. Since these recipes are all made in the slow cooker, you can easily make a batch for later.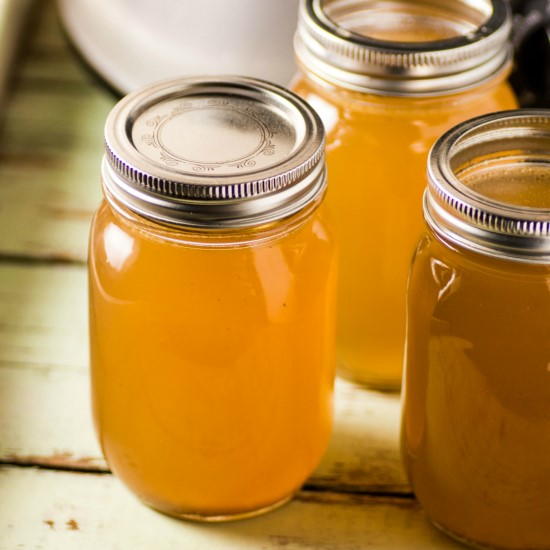 Your Recently Viewed Recipes