Stephanie Nuccitelli - Food Blogger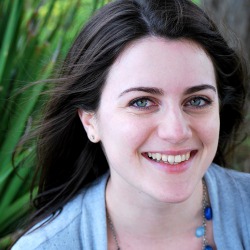 Cooking is something Stephanie Nuccitelli, the blogger of 52 Kitchen Adventures, does in her spare time. Until fairly recently, she actually hated cooking – it stressed her out. She has always loved baking and realized that she needed to face her fear and force herself to start cooking.
She wanted to start cooking more and try new foods, so she created 52 Kitchen Adventures as a way to force herself to try something new and cook once a week. Over 2010, Stephanie explored one unusual ingredient each week, demystifying different foods from strange looking produce to exotic pantry items.

Her blog became a creative outlet and she started sharing recipes several times a week. She loves to bake so it's turned into a bit of a baking and dessert blog, along with many slow cooker recipes, healthy recipes and other food adventures.
She describes her cooking style as easy and healthy. That's why she loves her slow cooker – just dump in a bunch of ingredients and come back several hours later to a fully prepared dinner! She tries to eat healthy as well, so she uses a lot of whole grains, lean meats and vegetables. However, her favorite thing to make is cupcakes. She describes them as "cute and yummy."
"I cook for myself mostly and occasionally for friends and family," Nuccitelli said. "I bake often for my friends, coworkers and family. I love brightening someone's day with a fun treat."
By day, Stephanie teachs at a preschool & mentors college students who are studying child development. She also works at a social media agency. In her spare time, she keeps up with her social life and blogs. Stephanie creates family-friendly recipes for a parenting magazine, Yolo Parents Monthly. Occasionally other websites and blogs will share her recipes – they've been featured on Bon Appetit's website, Yummly, and the Huffington Post, among others.
Stephanie's Links:
Stephanie's Recipes on AllFreeSlowCookerRecipes.com:
Balsamic Chicken and Baked Yams
Slow Cooker BBQ Pulled Chicken
Slow Cooker Garlic Butter Tilapia
Slow Cooker Mini Salted Caramel Mocha Cheesecakes in Jars
Your Recently Viewed Recipes