Karen Petersen - Cookbook Author & Food Blogger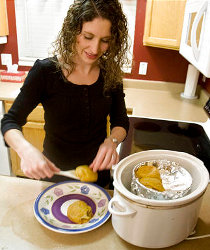 Karen Petersen is a stay at home mom who began her crockpot cooking adventures in January of 2009.

"I like to make something that my husband will enjoy after a long day at work," Karen said. "He is my greatest fan."

She randomly cooked dinner in her slow cooker, something she seldom did as she only had one good slow cooker recipe. She liked the freedom that came from having dinner done early in the day and was pleased when she didn't have to fight her 2 cranky kids at 5 p.m. while she was trying to make dinner. She decided to keep going with the slow cooker. After 7 days of slow cooked meals she rashly made the decision to cook 365 slow cooker recipes over the course of 365 days. She developed a blog to chart her progress and post the recipes, reviews and pictures. At the end of the 365 days she compiled a cookbook, which she now sells (and uses all the time). After her year was up she took a few weeks off and then continued developing new slow cooker recipes using the techniques she had learned over the year. Karen describes her cooking style as easy, tasty, made with simple ingredients, and food that her family will eat.

"I've cooked over 500 different recipes in my slow cooker over the past 2 years," Karen said. "I have learned a lot of different tips and techniques that can help anyone achieve slow cooking success! I often teach slow cooking classes to local groups. I am currently writing my second slow cooker cookbook. I have appeared on TV over 10 times demonstrating different recipes."

Karen is a mother of two kids, six-year-old Reagan and three-year-old Skyler. Her husband, Greg, is a federal probation officer. Karen enjoys fitness and running and teaches fitness classes to local moms to bur off all the calories she eats at dinner each night. Karen describes herself as shy, and said she likes blogging because she doesn't know who's reading and can write to an unkown audience.

AllFreeSlowCookerRecipes asked Karen, "What's the most exotic or difficult thing you've ever cooked?"

"I'm always trying to think of new ways to use the slow cooker," Karen said. "I actually made my own birthday cake this year in the slow cooker...I made blueberry pancakes in the slow cooker. Not everything turns out but I like to give it a try!"
Karen's Links:
Karen featured on Today's Mama
Karen featured on AllFreeCasseroleRecipes.com
Staff Reviews of Karen's book, 365 Days of Slow Cooking Cookbook:
365 Days of Slow Cooking Cookbook Review
Karen's Review of the KitchenAid® 6-Quart Slow Cooker:
KitchenAid 6-Quart Slow Cooker Review
Karen's Recipes Developed for AllFreeSlowCookerRecipes.com Using KitchenAid® 6-Quart Slow Cooker:
Egg, Ham, and Spinach Breakfast Casserole Recipe
Slow Cooker Chicken Gyros with Tzatziki Sauce
Karen's Recipes on AllFreeSlowCookerRecipes.com:
3-Ingredient Slow Cooker Ground Turkey and Mushrooms
5-Minute Prep Slow Cooker Asian Chicken
Black Forest Cream Cheese Pound Cake
Blueberry Pancakes With Lemon Glaze
Bread Rolls in the Slow Cooker
Breakfast Casserole with Spinach, Peppers and Mushrooms
Budget Tomato Basil Ravioli Soup
Buffalo Cheddar Cauliflower Soup Recipe
Buffalo Cream Cheese Chicken Taquitos
Buffalo Ranch Turkey Meatballs
Cheesy Pesto Mushroom Chicken Recipe
Chicken Linguine with Mushrooms and Peppers
Chicken Gnocchi Soup with Kale and Parmesan
Chocolate Nutella Bread Pudding
Copycat Pizza Hut Style Dipping Sauce
Cream Cheese Chicken Sandwiches
Creamy and Skinny Taco Chili Soup
Creamy Black Bean Salsa Chicken
Creamy Coconut Chicken And Sauce
Creamy Coconut Chicken Haystacks
Creamy Ranch Chicken And Mushrooms
Delicious Slow Cooker Red Beans and Rice
Delicious Slow Cooker Smothered Pork Chops
Easiest Ever Slow Cooker Lasagna
Easy Cheesy Slow Cooker Potato Soup
Easy Italian-Seasoned Potatoes
Easy Minestrone Soup with Pesto
Easy Slow Cooker Bacon Chicken Dinner
Easy Slow Cooker Chicken Tikka Masala
Easy Slow Cooker Chocolate Chip Cookie Bars
Easy Slow Cooker Hawaiian Chicken
Easy Slow Cooker Hawaiian Chicken Sandwiches
Easy Slow Cooker Lasagna Casserole
Easy Slow Cooker Nutella Brownie Pudding
Easy Slow Cooker Spaghetti Sauce
Easy Slow Cooker Turkey Breast
Five Ingredient White Bean Hummus
Fork Tender Country-Style Ribs
Fruit, Nut And Wheat Berry Salad
Grammy's Homestyle Beef and Barley Soup
Heath Bar Chocolate Pudding Cake
How To Make Cornbread in the Slow Cooker
Inexpensive Lemon Artichoke Chicken
Leftover Halloween Candy Brownie Surprise
Make-Ahead Pulled Pork Stuffed Biscuits
Mama's Maple Dijon Glazed Brussels Sprouts
Meatless Mexican Rice and Beans
Melt Down Honey in Your Slow Cooker
Moist Chocolate and Caramel Cake
Must-Have Pumpkin Pie Dump Cake
No-Bake Chocolate Coconut Peanut Butter Balls
No-Fuss Chicken Tetrazzini Casserole
One-Pot Chipotle Shredded Pork Recipe
Overnight Apple Cinnamon Oatmeal
Peanut Butter Chocolate Buckeyes
Peanut Sauce with Chicken and Fettuccine
Penny Wise Potato and Ham Soup
Pumpkin Chocolate Chip Bread Pudding
Raising Bread in Your Slow Cooker
Raspberry Cream Cheese Caramel Brownies
Rise 'n Shine Easy Breakfast Casserole
Savory Slow Cooker Breakfast Casserole
Secret Ingredient Beef and Mushrooms
Secret Ingredient Chocolate Pudding Recipe
Simple Slow Cooker Lasagna Soup
Skinny Slow Cooker BBQ Pulled Pork
Skinny Slow Cooker Thai-Style Chicken and Coconut Soup
Sloppy Joe and Cream Cheese Quesadillas
Slow Cooker 2-Ingredient Balsamic Chicken
Slow Cooker 2-Ingredient Coconut Pecan Fudge
Slow Cooker 3-Ingredient Party Meatballs
Slow Cooker Alfredo Salsa Tortellini
Slow Cooker Asian Chicken Barbecue
Slow Cooker Bacon Fiesta Chicken
Slow Cooker Banana Nutella Bread
Slow Cooker Beans and Rice Recipe
Slow Cooker Beef And Potato Casserole
Slow Cooker Beef Enchilada Salad
Slow Cooker Broccoli Cheddar Soup
Slow Cooker Buffalo Chicken Dip
Slow Cooker Caramel Cream Cheese Cookie Bars
Slow Cooker Cheesy Bacon Bean Dip
Slow Cooker Cheesy Bacon Cauliflower
Slow Cooker Cheesy Enchilada Rice
Slow Cooker Cheesy Ham and Potato Chowder
Slow Cooker Cheesy Pesto and Mushroom Chicken
Slow Cooker Cheesy Scalloped Potato Casserole
Slow Cooker Chicken Cordon Bleu Soup
Slow Cooker Chicken Mushroom Tortellini Soup
Slow Cooker Chicken Tortellini Soup
Slow Cooker Chicken White Bean Soup
Slow Cooker Chocolate Peanut Butter Pretzel Bites
Slow Cooker Cilantro Lime Rice
Slow Cooker Cilantro Lime Shredded Pork
Slow Cooker Copycat Olive Garden Pasta E Fagioli Soup
Slow Cooker Corn Rice Salsa Chicken Soup
Slow Cooker Creamy Bacon Pasta with Broccoli
Slow Cooker Creamy Cauliflower and Potato Soup
Slow Cooker Creamy Cauliflower Broccoli Soup
Slow Cooker Creamy Mashed Red Potatoes with Skins
Slow Cooker Creamy Peanut Butter Hot Chocolate
Slow Cooker Fresh Garlic Green Beans
Slow Cooker Greek Lemon Chicken Soup
Slow Cooker Green Chicken Chili with Avocados
Slow Cooker Ham, Lentil and Barley Soup
Slow Cooker Healthy Chicken and Barley Soup
Slow Cooker Homemade Chicken Pot Pie
Slow Cooker John Wayne Casserole
Slow Cooker Lemon Dijon Salmon with Dill Barley
Slow Cooker Lemon Dill Halibut
Slow Cooker Mexican Chicken and Lentils
Slow Cooker Mexican Rice and Beans with Avocado
Slow Cooker Mexican Tortilla Pie
Slow Cooker Mint Chocolate Fudge Sauce
Slow Cooker Mushroom, Barley and Lentil Soup
Slow Cooker No Bake Chocolate Peanut Butter Cookies
Slow Cooker No Fail Barbecue Beef
Slow Cooker Nutella Brownie Pudding
Slow Cooker Ooey Gooey Chicken
Slow Cooker Orange Glazed Carrots
Slow Cooker Peach Blueberry Crisp
Slow Cooker Peanut Butter Cup Mini Cheesecakes
Slow Cooker Peanut Butter Pretzel Bites
Slow Cooker Perfect Turkey Breast
Slow Cooker Pesto Minestrone Soup
Slow Cooker Pina Colada Lava Cake
Slow Cooker Porcupine Meatballs
Slow Cooker Pork Gyros with Cucumber Yogurt Sauce
Slow Cooker Potatoes Au Gratin
Slow Cooker Savory Baked Beans
Slow Cooker Shepherd's Pie Chili
Slow Cooker S'mores Fondue Recipe
Slow Cooker Soup with Sausage, Barley, and Veggies
Slow Cooker Sour Cream Potato Bacon Soup
Slow Cooker Spicy Coconut Chicken Drumsticks
Slow Cooker Spicy Coconut Meatballs
Slow Cooker Strawberry French Toast Casserole
Slow Cooker Thai Peanut Chicken
Slow Cooker Toasted Pecan Chicken
Slow Cooker Tortellini Lasagna Casserole
Slow Cooker Turkey Pot Pie Soup
Slow Cooker Turkey Sausage, Barley and Mushroom Soup
Slow Cooker Velveeta Rotel Dip
Slow Cooker Warm Cheesy Bacon Bean Dip
Slow Cooker White Bean and Garlic Hummus
Slow Cooker White Bean and Pastrami Soup
Slow Cooker Yellow Chicken Curry Recipe
Slow Cooker Zucchini Noodle Lasagna
"Smoked" Beef Brisket in the Slow Cooker
Sour Cream Chocolate Zucchini Bread
Spicy Chipotle Chicken with Hawaiian Sweet Jalapeno Rolls
Spinach Artichoke Bread Pudding
Sweet and Salty Candy Corn Spiced Nuts
Sweet Strawberry Rhubarb Cobbler
Sweet Tomatoes Copycat Sweet Tomato Basil Soup
Tomato and Chicken Soup Recipe
Tomato Basil Parmesan and Pasta Soup
Tossed Salad with Lemon Peppered Chicken
Turkey Burgers with Faux Hollandaise Sauce
Unbelievable Honey Mustard Chicken
Vegetable Lasagna Recipe with Tortellini
Zupas Cafe Copycat Wisconsin Cauliflower Soup
Your Recently Viewed Recipes