Six Sisters - Food Bloggers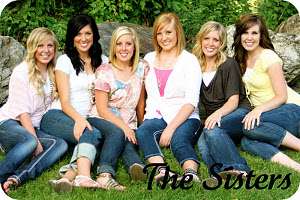 Camille, Kristen, Elyse, Stephanie, Lauren and Kendra comprise the six sisters of the Six Sisters' Stuff blog. Growing up, their family ate dinner together every night. It was a way for them to share what was going on in their lives - with school, friends, and whatever else they were up to. As they grew older, moved away from home, and moved away from each other, they started their little blog to stay in touch.

"We would post the easy meals and delicious recipes we found, and then we started getting a loyal following, and we have just grown from there," they said.

Right now, their recipes are only located on their site, but they will be launching their first book in the spring of 2013 - with recipes, crafts, and other fun ideas. Their cooking style is definitely quick, easy meals that you can eat with your entire family - like slow cooker meals and casseroles.

All six of these girls are really sisters - they all part their hair on the same side, use the same gestures, and talk the same way.

"We all LOVE Disneyland, chocolate, shopping, and spending time together catching up on the latest news from our lives (or good celeb gossip!). Every time we are together, we always end up in the same place: around the kitchen table, where one (or more!) of us is cooking or baking."
Six Sisters' Links:
Six Sisters' Recipes on AllFreeSlowCookerRecipes.com:
5-Ingredient Honey Mustard Glazed Ham
All Day Slow Cooker Bourbon Chicken
Bavarian Meatball Sandwich Recipe
Cheesy Chicken and Broccoli Over Rice
Chicken Bacon Ranch Sandwiches
Classic Slow Cooked Roast Beef and Veggies
Copycat Pineapple BBQ Beef Sandwiches from Blue Lemon Restaurant
Creamy Cheesy Scalloped Potatoes
Creamy Ranch Pork Chops and Potatoes
Creamy Ranch-Garlic Pork Chops
Dump and Go Texas Slow Cooker Chili
Lazy Turkey and Stuffing Casserole
Melt in Your Mouth Slow Cooker Pot Roast
Overnight Sausage Breakfast Casserole
Root Beer Pulled Pork Sandwiches
Simple Philly Cheese Steak Sandwiches
Slow Cooker "Refried" Beans Without the Refry Recipe
Slow Cooker 7UP Chicken and Rice
Slow Cooker Apple Cider Rump Roast
Slow Cooker Asian Style Meatballs
Slow Cooker Bacon Smothered Chicken
Slow Cooker BBQ Chicken Cobb Salad
Slow Cooker Beef Enchilada Stack
Slow Cooker Cake Mix Apple Cobbler
Slow Cooker Candied Sweet Potatoes
Slow Cooker Cheesy BBQ Chicken Bacon Sandwiches
Slow Cooker Cheesy Chicken Quesadillas
Slow Cooker Chicken Alfredo Lasagna
Slow Cooker Chicken Enchilada Soup
Slow Cooker Chicken Tortellini
Slow Cooker Chinese Pork Chops
Slow Cooker Chipotle Chicken Tacos
Slow Cooker Chocolate Chip Pumpkin Bread
Slow Cooker Coca-Cola BBQ Roast Beef
Slow Cooker Coconut Pecan Sweet Potatoes
Slow Cooker Company Pork Roast
Slow Cooker Creamy Lemon Chicken
Slow Cooker Creamy Mashed Potatoes
Slow Cooker Garlic and Brown Sugar Chicken
Slow Cooker Ham and Potato Casserole
Slow Cooker Hawaiian Meatballs Recipe
Slow Cooker Honey Mustard Chicken
Slow Cooker Honey Sesame Chicken Recipe
Slow Cooker Hot Fudge Brownies
Slow Cooker Italian Chicken Salad
Slow Cooker Mexican Hash Brown Casserole
Slow Cooker Pineapple Glazed Chicken
Slow Cooker Pineapple Glazed Ham
Slow Cooker Pork Tenderloin with Orange Glaze
Slow Cooker Potatoes with Bacon and Cheese
Slow Cooker "Refried" Beans Without the Refry Recipe
Slow Cooker Roast Beef and Gravy for Six
Slow Cooker Roasted Vegetables
Slow Cooker Rocky Road Chocolate Fondue
Slow Cooker Salsa Verde Chicken
Slow Cooker Sticky Chicken Recipe
Slow Cooker Sweet and Sour Lemonade Chicken
Slow Cooker Sweet Potato Chowder
Slow Cooker Tangy Mustard Chicken
Slow Cooker Teriyaki Chicken Stir Fry
Sunday Dinner Pot Roast and Gravy
Tender Turkey Breast for Slow Cooker
The Best Slow Cooker Pork Chops
The King of Casseroles: King Ranch Chicken
Three Envelope Pot Roast Sliders
Three Ingredient Sweet Glazed Pork Chops
Three-Step French Dip Sandwiches
Your Recently Viewed Recipes