Fly Creek Cider Mill and Orchard Pride of New York Gift Basket Review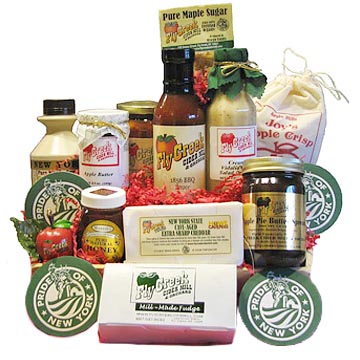 The staff at AllFreeSlowCookerRecipes has provided food reviews of products contained in the Fly Creek Cider Mill and Orchard Pride of New York Gift Basket. The basket includes apple butters, cheese, sauces and more. For a glimpse into the products in this gift basket from Fly Creek Cider Mill & Orchard, read our helpful and thorough staff reviews here. If you like apple products, you'll find these reviews useful. (Reviews do not cover all of the products contained in the gift basket.)
Mill-Aged Cheddar:
"This cheddar is a treat for cheese-lovers everywhere. The flavor is powerful without being too potent. It has a great texture. It's exactly what you hope for when you bite into a piece of cheddar. Whether you live near this orchard or not, this cheddar is definitely worth ordering and adding to your next cheese plate."
"Cheddar is usually not my favorite among cheese varieties, but this cheese from Fly Creek has made me a convert. It's tender, savory and has a great texture. I loved it!"
Mild Apple Salsa:
"I've never tried an apple salsa before so I was intrigued at how the different flavor combinations would come together. I was pleasantly surprised at how sweet this salsa was while still retaining the spicy elements I've come to love from standard varieties. I'm not a fan of salsa that's so spicy that I need a glass of water on standby just to enjoy a snack, but with the apple salsa, I didn't have to worry about that. Perfect for parties or other gatherings, this apple salsa will cater to everyone's tastes."
"I'm not normally a huge salsa fan, but the apple-based version from Fly Creek Cider Mill and Orchard was out of this world. It was actually the highlight of my week, food-wise. I couldn't stop eating it! As someone who hates all things spicy, this sweet salsa was perfect. It had just the right blend of traditional salsa flavor, but mixed with sweet chunks of apple. I loved that you could see huge chunks of both tomato and apple in this salsa... that's how you know it's straight from the farm quality. I'll definitely be serving this salsa at my next party!"
"I couldn't really taste any apple, though the salsa was a tad sweeter than normal. Overall, it was good."
"This salsa is awesome! I positively love the flavor of the tomatoes, it's just perfect. Normally I can't stand spicy salsas and this product was just the right level of heat for me. I especially love the big tomato chunks."
"I love Fly Creek's mild apple salsa. It has the perfect combination of savory and sweet, with bright tomatoes, seasoning and sweet apple chunks. This salsa would be great with any Mexican meal. I tried it with tortilla chips and I was in heaven. The salty chips added to the great harmony of flavors. The salsa is super chunky and great for dipping. If you're someone that likes sweet, fruit salsas this salsa is perfect."
"I wouldn't call myself a salsa connoisseur, but I do consume more salsa than the average person. I'd say about two jars a week. I generally have strong opinions about what salsa I use when cooking, but I decided to give Mild Apple Salsa from Fly Creek Cider Mill and Orchard a shot. I used it to make huevos rancheros and was pleasantly surprised by how much of a flavor boost it gave the dish. The salsa was not as spicy as I would have liked, but it had a sweet and zesty flavor that complemented the eggs. It was super good. I also enjoyed how there were chunks of fresh vegetables in the salsa. I'm usually not a chunky salsa fan, but they added to the overall well-balanced flavor. I might try their medium blend next time, but two thumbs up for Fly Creek salsa!"

Maple Syrup
"Fly Creek's maple syrup an idyllic brown with an earthy, true maple taste. I liked it so much I could practically drink it. Of course, it would be fantastic on pancakes, waffles, and other breakfast fare. For a down-home, true maple syrup, this product is a great choice."
"Why buy grocery syrup when a maple syrup like this exists? It's absolutely delicious! It would make for a great fall gift. And, I think I'll treat myself and buy a pint too."
1856 BBQ Sauce:
"I'm loving the flavor combination in Fly Creek Cider Mill & Orchard's 1856 BBQ Sauce! Both smoky and sweet, this BBQ sauce adds plenty of flavor without overpowering your food. The ingredients list both apple cider vinegar and hot sauce giving it a distinct taste that you're not going to find in that bottle you pick up from the grocery store. This stuff is the real deal. I never thought I'd experience such a wide range of spices and flavors in every bite! If you're a BBQ sauce fan, this is one brand you're going to have to check out."
"Fly Creeks' 1856 BBQ Sauce is sweet and tangy with a hint of kick. If you like your BBQ sauce sweet—as I do—you'll love this sauce! I think the apple cider vinegar gives the sauce an extra special sweet note. I also like the smoky hints in the sauce. I would eat this sauce over chicken, ribs, burgers and more. It's one of the best BBQ sauces I've tasted in a long time."
"I love to grill year round. I even fight the cold in the winter to stand outside and get the smoky flavor of the grill. I mostly make a lot of barbecue dishes, so I already have my favorite selection of sauces. I was presented with Fly Creek Cider Mill and Orchard barbeque sauce and I was kind of weary about a sauce that had apples in it. But, let me tell you, it was sure delicious. Not too sweet, it even had a little kick to it. I wasn't expecting that from what I thought was going to be a sweeter sauce. I even marinated chicken in it and let it sit overnight, and it produced one of the best recipes I've made on the grill. The chicken had a great flavor throughout. Sweet but with a kick, it was finger licking good. I found a new favorite among my barbeque sauces."
Cinnamon Flavored Creamed Honey
"Fly Creek Cider Mill's Cinnamon Flavor Creamed Honey is unlike any honey I've ever tasted. It has a rich and smooth texture and a perfectly sweet taste. It isn't overwhelmingly sweet like many honeys, but instead the cinnamon adds just the right amount of "zing" to this delicious honey. I sampled some on a shortbread cookie and it was a perfect afternoon pick-me-up. I imagine this honey would taste great in hot tea as well. If you're a fan of raw honey and are looking for something a little unique and different, I'd definitely try out the Cinnamon Flavor Creamed Honey from Fly Creek Cider Mill!"

Apple Crisp Mix
"I don't do a whole lot of baking, so I was quite relieved to see how simple the baking instructions were for Fly Creek Cider Mill & Orchard's Apple Crisp Mix. All I needed were a few apples, a stick of margarine, and the provided apple crisp mix. It doesn't get much easier than that! I loved taking the dish out of the oven and seeing how the crisp mix seeped in between the apple slices, coating the whole dish with that fall-favorite cinnamon and nutmeg combination with minimal effort on my part. I was quite impressed with the blend of spices offered up in this ready-to-go pack; it was much better than I ever would have done if left to my own devices!"

"Fly Creek's apple crisp mix is delicious. It's packed with cinnamon, brown sugar and hearty oats. The cinnamon really shines in this mix—it gives the apples a decadent punch of flavor. This crisp seems super easy to make because one only needs to add butter and apples. It's a sweet wholesome treat that's perfect for fall!"
Vidalia Onion Dressing
"I really enjoyed this Sweet Vidalia Onion Salad Dressing on my salad. The flavor was enjoyable and I could really taste the sweet flavor of Vidalia onions. Although it's labeled as a "creamy" salad dressing, it tasted much like a lighter vinaigrette to me. It was great as a salad dressing, but I could also see myself using it as a dipping sauce or even possibly as a marinade for chicken."
Chocolate Fudge
"Chocolate lovers get ready because the fudge from Fly Creek Cider Mill is one of the tastiest things this chocoholic has ever tasted! Sweet and rich, this treat is everything you'd expect out of a great fudge. I also loved the consistency... smooth enough to melt in your mouth but packed tight so it isn't messy like some fudges out there. I could probably eat this fudge every day and never get tired of it... it's that good!"
"Fly Creek's fudge is superb. It's tender and moist and supremely rich. It has the exact texture you would hope fudge to have. It's sweet and chocolaty, obviously crafted with care. I love this fudge! I would be a great gift around the holidays."
"I love fudge, so needless to say, I was so excited to try Fly Creek Cider Mill & Orchard's Mill-Ridge Fudge. After trying some of their other products, I was primed and ready to be "wowed," and this fudge surely didn't disappoint! The chocolate-y flavor was prominent but not overwhelming, and the texture was as soft as butter. This is the type of fudge recipe you'd stock up on if you saw some in a local shop while traveling — it's just that good."
Apple Pie Butter Spread
"This Apple Pie Butter Spread was so tasty! I tried it as a spread on a graham cracker and it was such a sweet afternoon treat. I think it would also be good for breakfast on warm toast in the morning. It's the perfect snack for the fall!"
"When I first saw the jar of Old-Fashioned Apple Pie Butter Spread, my heart skipped a beat. A jam-like spread that tastes just like apple pie? It sounded like a dream come true. Let me tell you, this apple pie butter spread does taste exactly like apple pie, and what's really great is that you can use it on almost anything. Spread it on toast, make a sandwich with it, bake your favorite dessert with it, or just eat it plain... there's a ton you can do with this delicious spread. The Apple Pie Butter Spread from Fly Creek Cider Mill is the perfect fall treat to get you excited for apple season. If you've never tried apple butter before, you have to try this one... it's my personal favorite!"
"If you've ever wanted to find that dish that defines the epitome of fall, look no further than Fly Creek Cider Mill & Orchard's Apple Pie Butter Spread. Made with that no-preservative, down-home goodness you've come to love from your favorite autumn treats, this Apple Pie Butter Spread tastes just like something out of Grandma's kitchen. Why stock up on your fall favorites from the grocery store when you can get that authentic orchard-quality taste that you've been waiting for all year?"
Photo above is courtesy of Fly Creek Cider Mill and Orchard.
Enter AllFreeSlowCookerRecipes giveaway for your chance to a Pride of New York Gift Basket from Fly Creek Cider Mill & Orchard.
Free recipes, giveaways, exclusive partner offers, and more straight to your inbox!
Tags / Related Topics
Your Recently Viewed Recipes

Something worth saving?
SAVE all your favorite recipes
ADD personal notes
QUICKLY reference your recipes