Dei Fratelli Tomato Products Reviews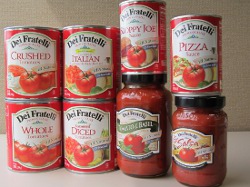 Our staff at AllFreeSlowCookerRecipes has reviewed a variety of Dei Fratelli tomato products. Easy meals can be cooked up in your slow cooker with Dei Fratelli's canned and jarred tomato foods.
Dei Fratelli Salsa
"With the huge variety of salsas in the super market, picking out one that is packed with flavor and fresh ingredients seems almost impossible. Dei Fratelli's Original salsa brings the exceptional flavor of their fresh tomatoes for a delicious, not too chunky salsa that is wonderfully blended with peppers, onions and garlic. Boosted with diced jalapeno peppers, it has a mild yet zesty flavor that will keep you coming back bite after bite. Enjoy with a chip or add it in to your favorite southwest recipes, this is one jar that deserves to always be in your pantry."

Dei Fratelli Pizza Sauce

"Dei Fratelli's Prima Qualita Pizza Sauce was the perfect addition to my dinner meal! This all-natural sauce made with sea salt had a crisp, fresh flavor that paired well with the pizza toppings. It certainly tasted fresher than most products out of a can which was a refreshing change of pace. You'd think that a sauce so tasty couldn't be good for you. I was pleasantly surprised, therefore to see that there were no artificial preservatives added, and it was even a good source of vitamins A & C. Win-win! Plus, there's plenty in the can for multiple pizzas so a few dollars goes a long way."
Dei Fratelli Sloppy Joe Sauce

"The Dei Fratelli Sloppy Joe Sauce is not the average Sloppy Joes you'll remember from childhood, they're so much better! With the real, fresh tomato taste, the blend of delicious slow roasted flavors, and a slight touch of sweetness - you'll never want boring old Sloppy Joes again. Best of all this mix makes it super easy to make Sloppy Joes; just cook and add whatever ground meat you prefer (I used turkey), mix and voila! You're done. I also added more veggies for even more texture, but this mix already has so much flavor it's not necessary. This mix is great to serve on a bun like the old fashioned way of eating Sloppy Joes, or you can try adding a little shredded cheese and dip your tortilla chips for a whole new experience! "
Dei Fratelli Whole Tomatoes & Dei Fratelli Crushed Tomatoes

"I have been fortunate enough to know what a fresh ripe tomato tastes like when it is in season. Compared to those bright red orbs of yumminess, the bland and drab imposters sold at most supermarkets just will not cut it. The tomato season is notoriously short, which is why I use canned tomatoes in most of my recipes. I'm also picky about my canned tomatoes, and I was pleasantly surprised by the offerings from Dei Fratelli. I was fortunate enough to try their whole canned tomatoes and their crushed tomatoes with basil. The whole tomatoes were large and plump, and each one was bursting with real tomato flavor. I used them in a stew, and loved the bright flavor they added to the mix. I like the crashed tomatoes because the tomato was by far the predominant flavor. Too often, canned tomatoes with flavor add-ins taste like the her or spice and not at all like tomatoes. That was not the case here, and I thought the crushed tomatoes would be the ideal starting point for homemade pasta sauce. For most of the year I turn to canned tomatoes, and the offerings by Dei Fratelli fit the bill for my tastes."
Dei Fratelli Seasoned Diced Tomatoes

"I chose to make my mom's lasagna recipe using Dei Fratelli's Seasoned Diced Tomatoes. Typically I use a combination of seasonings, plain diced tomatoes, and a tomato paste; however with Dei Fratelli's tomatoes, I was able to exclude the seasonings altogether. They had a hint of spice right out of the can that definitely added an excellent flavor to the dish. Although the tomatoes were a bit larger than the diced ones I typically use, they gave a hearty texture to the already thick lasagna. I would definitely consider using these tasty tomatoes in other recipes. If drained, they would work excellent in a baked casserole or even on pizza."

Dei Fratelli Whole Tomatoes
"If you're a person who enjoys spending time in your kitchen, then you're simply going to love Dei Fratelli's Whole Tomatoes. The 28-ounce can is just the right size for use in pasta sauce, pizza sauce, or the fantastic sauce we made to go over salmon recently. Dei Fratelli Whole Tomatoes taste as if they were picked the same day we opened the can – fresh and delicious, had great bite and were not mushy at all (which is, unfortunately, typical of other canned tomato products). Feeding our families good, wholesome food is so important these days, so it's comforting to know that Dei Fratelli is a fourth generation, family-owned company, big on family traditions. Try any of their tomato products – from salsas to juices to tomatoes and more – and you'll be glad you did!"

Dei Fratelli Tomato & Basil Sauce

"Dei Fratelli's Tomato & Basil Sauce is made with a few simple and natural ingredients, and it's packed with flavor. You can taste each wholesome component. The tomatoes and olive oil used in the sauce are of noticeably high quality. I loved this sauce over pasta with meatballs. It tasted homemade!"


Click here for more information on Dei Fratelli Tomato Products Giveaway.


Free recipes, giveaways, exclusive partner offers, and more straight to your inbox!
Your Recently Viewed Recipes

Something worth saving?
SAVE all your favorite recipes
ADD personal notes
QUICKLY reference your recipes