Sante Nuts 4-Flavor Sampler Pack Review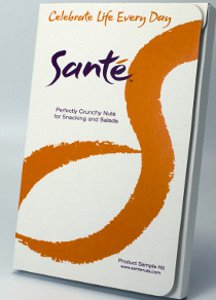 The Santé Nuts 4-Flavor Sampler Pack contains three 4oz bags and one 5 oz bag with four flavors including garlic almonds, candied walnuts, roasted salted pecans and candied pecans.
Garlic Almonds - Zesty garlic, cayenne and black pepper give these almonds their savory punch. A touch of pure cane sugar makes them irresistible.

Candied Walnuts - These creamy walnuts kissed with pure cane sugar are dreamily delectable.

Roasted Salted Pecans - Mammoth pecan halves roasted and salted to perfection.

Candied Pecans - These buttery mammoth pecan halves kissed with pure cane sugar are deliciously addictive.

"Santé Garlic Almonds are some of the most flavorful nuts I've ever tasted! They have an intense garlic taste, rounded out by a punch of pepper. These nuts would be amazing in a salad, in a nut/trail mix or even just nibble on for a snack. If you like garlic, you will go 'nuts' over these nuts!"
"Santé's Candied Pecans are unreal--they're so good! They hit the tongue with a hint of sweetness and then just melt in your mouth! They would be great for baking, or to sprinkle on a salad. They're sweetened to perfection without being overpoweringly sweet. They're so buttery and rich. They're, perhaps, the best candied walnuts I've ever eaten!"
"Santé's Roasted Salted Pecans are impressive, in that you can actually taste the nut, without being over-run by salt. Many salted nuts are too salty and don't taste fresh. These pecans taste incredibly fresh and the roasted flavor really shines through!"
"Santé's Candied Walnuts are subtly sweet and utterly delicious! They make for a great afternoon snack or a perfect salad topper! These nuts would even be fantastic in oatmeal! I could eat these nuts any time! "
"I can't believe Santé has made already delicious walnuts even better. These are unbelievable because the natural goodness of the walnuts shines through, and is merely complemented by the candy coating. I loved these as an out-of-hand snack, but I bet these would make the perfect addition to some of your favorite baked goods. If you're a fan of walnuts but are craving something sweet, then reach for these nuts."
"The secret roasting method that makes Santé nuts taste so amazing was actually handed down to the company founder by her grandmother! You can guarantee there's no artificial taste or processed texture. These tasty snacks that pack a great crunch are actually healthier: there's less oil and less fat per nut. Whether you like nuts with a little zing, or slightly savory, or lightly sweet - there's a Santé for you! I tried every flavor and loved them all for different reasons. The Garlic Almonds were a particular stand-out for me with zesty garlic, cayenne and black pepper. I would toss these in an Asian salad or savory pasta dish any day! Santé nuts are definitely something I would keep in my pantry to cook with. And of course, in case of snacking emergency!"
"I'm so used to eating and enjoying pecans in some sort of sweet fashion (candied, in a pie, etc.) that I sometimes forget how naturally delicious this nut is. What I love about these roasted salted pecans is that they let the natural flavor of the nut shine through, and the processing they do to it is just to amplify already existing flavors. These nuts are still incredibly flavorful, but in a more natural way. Santé has struck the perfect snacking balance here."
"Just when I thought I'd found my favorite nut from Santé, I go and taste the salted pecans. These are amazing! I've never tasted nuts like this before, they literally melt in your mouth. What a perfect treat to give you a quick pick-me-up during the day. What's so amazing is that they aren't even that salty, yet they have tons of flavor and loads of crunch. Again I could totally see adding this to ice cream or cereal for more sweet and salty flavor. You can't go wrong with Santé nuts."


"I think I may have found my new favorite afternoon snack! I love almonds anyways, and this flavor combination takes them to a whole new level. The Creole seasonings pack plenty of heat, which I love, but the strong flavors are mellowed out a bit by the light sugar coating. As a bonus, I find it comforting that I can pronounce and identify all of the ingredients. The only problem with these is that it's difficult not to each the whole bag in one sitting!"
"I've found my new go-to snack, the Santé candied walnuts! After the first bite I was completely addicted to these tasty crunchy walnuts. These melt in your mouth nuts have the perfect balance of sweet and salty. It's the perfect item to grab when you're in need of snack and you're also trying to curb a sugar craving. The best part is it's actually pretty low in sugar compared to some granola bars and the like out there, and twice as filling. I also tried the candied pecans from Santé which are equally amazing and have even less sugar! These nuts would be wonderful to toss in oatmeal, cereal, to make banana bread with, or throw on top of some ice cream for a delicious finish. So many possibilities!"



Click here for more information on Santé Nuts 4-Flavor Sampler Pack giveaway.



Free recipes, giveaways, exclusive partner offers, and more straight to your inbox!
Tags / Related Topics
Your Recently Viewed Recipes

Something worth saving?
SAVE all your favorite recipes
ADD personal notes
QUICKLY reference your recipes