How to Make the Perfect Slow Cooker Meatballs
By:
Marah Altenberg, Editor, AllFreeSlowCookerRecipes.com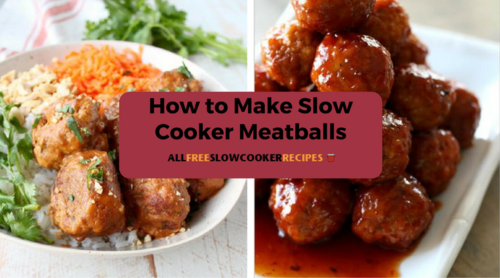 How to Make the Perfect Slow Cooker Meatballs
Making the perfect slow cooker meatballs recipe for your next cocktail party, holiday dinner or potluck affair can be a science for sure. You want them to be the perfect size, the perfect texture, the perfect flavor, and the perfect tenderness level for all to enjoy. There is certainly a method to your madness to get your meatballs in just the right way that your guests will be coming back for seconds and thirds.

There are all kinds of meats you can use to create your perfect easy slow cooker meatballs, and there are certainly all different types of ingredients to use to come up with the desired fluffyness and the desired flavor to make your meatballs the most delectable they can be. We have got some wonderful tips for you on what ingredients you should use in your meatballs to make them irresistible to your hungry guests. We also have some preparation and cooking tips to make your meatballs the perfect size and the perfect taste for all to enjoy!
Here are some incredible meatball recipes that you definitely need to try. These recipes are terrific to use for your next potluck event, cocktail party at your home or starter for your next casual dinner. Each of these recipes has its own unique flavor. Try one of these:
Ingredients to Use to Make the Perfect Meatballs
Here on some tips on what ingredients to include in your meatballs to make them the perfect taste, texture and size. If you want your meatballs to turn out incredible to all we suggest following these tips to make them the best they can be. 
Picking the right meat is important to making the perfect meatball. Pick the right meats. While you can make meatballs from any type of ground meat, you will achieve more tender meatballs with fattier meats like beef, lamb, and pork. Chicken or turkey meatballs can become tough if you overcook them.

Texture is always a concern when trying to make the perfect meatball. It is a good idea to add an egg to hold things together. This will add to the final product being meaty and fluffy.

Some people insist on putting bread crumbs into all of their meatballs. Here is another method that may work just as well or better. It is called the soaked bread trick. You tear fluffy white bread into a bowl (each torn piece the size of a pea), douse it with a little milk, then mix the floury mass into your meatball mixture. This will help truly bind your meatball in a better way. It also adds to the ultimate fluff of your meatball.
 

It is imperative that you season your meatballs. About 1 teaspoon per pound will make for perfectly salted meat. If you're using a salty cheese like Parmesan in the mix, you can feel free to cut back on the salt a little bit. You don't want your perfect meatballs to taste too salty.

Adding in some herbs is also a very important step to having perfect meatballs. If you fail to do so, you run the risk of your meatballs tasting like a hamburger. There are all kinds of herbs you can add in, such as basil, mint, oregano, marjoram, or even nutmeg. It adds some depth to your flavor.

Certain cheeses can also add some nice flavor to your meatballs. For instance, Parmigiano Reggiano cheese adds tons of nutty and savory flavor. Use finely ground (not grated) cheese to ensure an even distribution. Regular Parmesan also works as well, if that is an easier option to find. 
Preparation and Cooking Tips for Meatballs
There are certain methods to use in preparing your meatballs and there are certain cooking methods that are also preferable to insure the outcome of your meatballs is successful. Take a look at the tips we have provided to help you cook up the best possible meatballs in your slow cooker. We know you will be happy with the final product.
You want to keep your meat as cold as possible prior to cooking your meatballs. By keeping the meat cold you will prevent the fat from breaking down. It is best to make your meatballs mixture in a chilled bowl. If you are adding pre-cooked ingredients you also want them to cool down before adding them in with your meat.

Making sure to keep your meatballs moist during the cooking process is also important. The protein in meat can make it shrink when cooked and can cause toughness. Adding in some eggs and bread crumbs mixed with milk all help with keeping meatballs moist and tender.

You want to make sure you do not pack your meatballs too tightly. They could have a tendency to come out tough, rubbery and chewy. If meatballs are packed too tightly and compactly, they'll turn out tough, rubbery, and chewy. You should definitely oil your hands so that the mixture won't stick to them. Then you want to gently and quickly form your meatballs. You can even use a small ice cream scoop to make uniformly-sized meatballs.
 

Browning meatballs is suggested in many cases before entering into the cooking process. But you can also decide not to brown the meatballs and they still turn out just fine. Some people say in this case the meat flavor comes through in a much more prominent fashion.
 

There are different optimal cooking times to get your meatballs just right. We suggest cooking your meatballs for about 15 minutes to get the meatballs to a beautiful, juicy and crumbly point that can be more appealing than a longer-cooked meatball.

If you decide to go with browning your meatballs, sear them until they have a nice brown crust, then braise them. Once they are cooking in your sauce it's very difficult to overcook them, since they are sitting in a liquid. Braise them for about 15-20 minutes, or until you're ready to serve them.
We have some wonderful appetizer recipes to use for your next party or potluck event. With the holidays coming all year round it is nice to gather some new slow cooker appetizer recipes to have handy. We have an assortment to share that all of your guests will be thrilled partake in. Check out these recipes: 20 Inspiring New Year's Potluck Ideas
Free recipes, giveaways, exclusive partner offers, and more straight to your inbox!
Tags / Related Topics
Your Recently Viewed Recipes
Images from other cooks


Something worth saving?
SAVE all your favorite recipes
ADD personal notes
QUICKLY reference your recipes