Old Fashioned 1950s Slow Cooker Salisbury Steak
This slow cooker Salisbury steak is the ultimate comfort food - especially when served with mashed potatoes!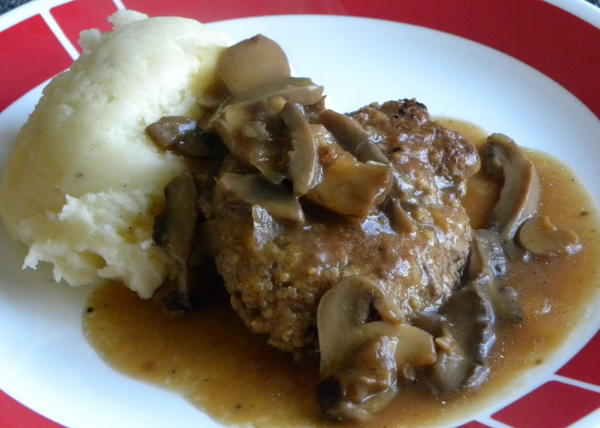 Old Fashioned 1950s Slow Cooker Salisbury Steak
Vintage slow cooker ground beef recipes are tasty and nostalgic! Make this Old Fashioned 1950s Slow Cooker Salisbury Steak just like Grandma made--except it's in your slow cooker!

This ground beef slow cooker salisbury steak recipe is easy to prepare. And, it only takes 3 hours to cook, so you don't have to plan too far in advance. Serve it up with mashed potatoes and your favorite veggies for a satisfying and comforting meal. This is also one of those slow cooker ground beef recipes that doubles as a great freezer recipe. These delicious patties will freeze and reheat for an equally flavorful second meal.

Your grandmother would be amazed at how easy this dish can be with the help of your slow cooker. It's a classic family dinner.
Serves4

OccasionCasual Dinner Party, Family Get Together
BONUS Recipe Video
Want another delicious beef recipe? The video below shows you how to make Smothered Steak Skillet Dinner for your next supper! Serve these smothered steaks with homemade mashed potatoes for the most comforting meal.
The Origin of Salisbury Steak
The Salisbury steak gets its name from its creator, Dr. James Salisbury, a physician during the Civil War. Salisbury believed that food was the key to health and hypothesized that particular foods could be used to cure diseases.

While treating soldiers with intestinal woes during the war, he tested his idea by only feeding chopped meat to the ailing soldiers. Salisbury chose lean beef because he believed it was the easiest food to digest.

In 1888, he published a book of his findings called The Relation of Alimentation and Disease. This book became very popular and ushered in what can be considered the first "fad" diet in American history. He was also one of the first Americans to promote a low-carb diet as a means for weight loss.
Three Bonus Recipes
Your Recently Viewed Recipes