Cooking on a Budget: 12 Slow Cooker Budget Dinner Recipes
Bonus: Get our newsletter & special offers for free. We will not share or sell your email address. View our Privacy Policy

Is Slow Cooking Safe?
When following the right guidelines slow cooking can be a safe and easy way to cook your food.
By:
Marah Altenberg, Editor, AllFreeSlowCookerRecipes.com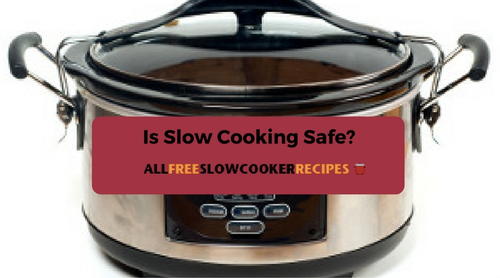 If you have never owned a slow cooker, but are considering purchasing one, you may wonder about the slow cooker safety features of this incredibly helpful appliance. When following the proper guidelines, a slow cooker appliance can be very safe to use. The appliances are made well, and according to manufacturers, are incredibly safe to leave on a low or high cooking setting when you leave your home for a varied amount of time. If you follow the directions and manage your slow cooker, which can get hot sometimes, you still can have a positive experience with slow cooker safety.

Slow Cooker recipes are safe to eat, but you need to follow cooking safety guidelines to make sure your food is prepared and cooked properly. Your food can be very unsafe to eat if you are careless and do not follow the proper guidelines for slow cooker food preparation. Defrosting your food at the wrong time or cooking your food at the wrong temperature could cause someone to become ill. Food preparation is no laughing matter and rules need to be followed correctly when cooking is involved to ensure a safe outcome. We are happy to share some tips with you on how to use your slow cooker in a safe manner. We are sharing some tips on using your physical appliance and also some tips for cooking safely in your slow cooker. Please make sure to follow these guidelines during your next slow cooking adventure. 
 
Looking for some new and exciting boneless chicken recipes? If you are tired of cooking your chicken the same way over and over, here are some new ideas for your next weeknight meal. Try these out to add to your monthly meal plan: 15 Easy Boneless Chicken Recipes for the Slow Cooker
Safety Guidelines for Your Slow Cooker Appliance
There are certain best practices you can follow to make sure you use your slow cooker appliance safely. Despite the responsible craftsmanship of these machines, without using certain safeguards, as with any appliance in your home, you can be asking for problems. Use these tips to avoid any issues. 
Make sure your slow cooker is sitting on a flat surface, not near any walls. The outside of your slow cooker can get very hot. 

Make sure the plug from your slow cooker appliance is in good condition. If the cord gets frayed, similar to what can happen with other small appliances in your home, then you could have a dangerous electrical issue. You never want to use an appliance with a frayed cord.

Make sure your slow cooker remains tightly covered at all times. Keeping a tight lid on also prevents bacteria from forming in your food. A tight lid on your appliance allows your food to cook safely.

During a power outage your slow cooker appliance may not remain a safe cooking vessel. If you were out and cannot pinpoint how long your food was cooking at a certain temperature, it is safer to take the food and throw it away. 

Slow cooking appliances are built in a way that allows them to sit unattended for several hours while cooking a dish. Programmable slow cookers have an autoshift to warm feature, which allows that appliance to automatically shift from cooking to warming. 

What is considered a safe level to fill to in your slow cooker? Experts say that filling the vessel of your slow cooker between one-half and three quarters of the way full is the safest range. You never want to fill your slow cooker to the top.
Safe Cooking Measures for Your Slow Cooker
When using a slow cooker, you also need to follow specific food safety guidelines to make sure your food is cooked correctly. You don't want to get sick because you did not follow the proper measures.
Make sure you always thaw meat or poultry before putting it into a slow cooker. If you fail to do this, there could be a bacterial issue.

Slow cooking vegetables can be safer if you make sure to put them in the slow cooker first. Always put meat above the vegetables. Your vegetables tend to cook slower. 

Large cuts of poultry and meat can be cooked safely in a slow cooker when cooked at the appropriate temperatures. 

Foods cooked between 40 degrees F and 140 degrees F will fall into a danger zone. Your slow cooker must reach higher temperatures for a certain period of time to properly cook your food to a safe level for eating it. 
 

Choose dishes to cook in your slow cooker with higher moisture contents. The higher moisture levels produce more steam, which helps the ingredients to cook faster. 

Always store leftovers in a separate container from the slow cooker and always refrigerate your food. Never reheat your food in the slow cooker. It is not sanitary. Instead, reheat the leftovers in a microwave or an oven.
References:
Free recipes, giveaways, exclusive partner offers, and more straight to your inbox!
Tags / Related Topics
Your Recently Viewed Recipes

Something worth saving?
SAVE all your favorite recipes
ADD personal notes
QUICKLY reference your recipes