Slow and Steady Wins the Race: How to Use Your Slow Cooker
By:
Marah Altenberg, Editor, AllFreeSlowCookerRecipes.com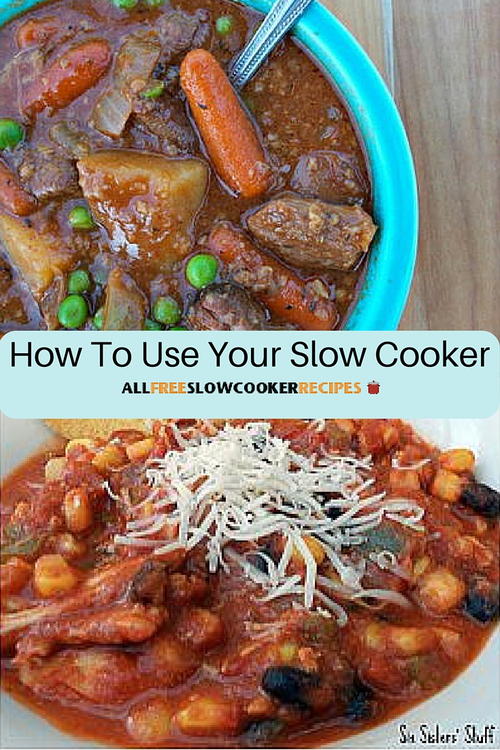 If you have never used a slow cooker you are in for a thrilling surprise. Slow cookers actually make cooking a little quicker and easier due to the methodology of this cooking appliance. You can put your ingredients in a slow cooker and cook on low for 8 hours with little fuss. If you are looking for tender and juicy beef or poultry, the slow cooker easily accomplishes that goal.

There are many tricks of the trade when using a slow cooker to make your experience optimal and safe. It is important to know best practices when using an appliance you may not be totally familiar with. Slow cookers need to be placed in certain areas for safety. Additionally, people cooking with a slow cooker for the first time need to understand the proper ways to fill it with your ingredients. How high is too high? What should go on the bottom verse the top? These are questions you need to know the answers to so your dish can be the best it can be. When cooking in a slow cooker you also need to know how to safely put food in and take it out to lessen the amount of bacteria that could build up in your cooker. We would like to share our lists of best practices for using a slow cooker in your kitchen. We want you to be able to obtain the best results when cooking memorable recipes for your family and guests. 
Best Practices for Slow Cookers
Certain practices should be followed when preparing your slow cooker for your next big dish and during the actual cooking process itself. Cleanliness issues and food temperature, among other things, are necessary items to consider when getting ready to use your slow cooker each time.
When purchasing a slow cooker you should make an effort to locate one with a removable liner. People have a much easier time cleaning cookers that contain a removable liner. It is best to spray the inside of the liner to make your clean up faster. Another option to consider is using a cooking bag to line your slow cooker. This helps to avoid having clean up afterward. 

The low setting on your slow cooker is 200 degrees. The high setting is around 300 degrees. These are important figures to know when adjusting how you cook particular recipes. 

Cooking your food in a safe manner is also extremely important for your health. It is urgent that food being cooked in your slow cooker reach 140 degrees as quickly as possible for food safety purposes. You should make an effort to test your slow cooker occasionally to insure you are obtaining this temperature in a timely manner. After a few hours, it is also important to check that your slow cooker has reached this temperature at a minimum. You and your family could easily catch a foodborne illness if you are not careful with your cooking temperatures. If you are not sure your appliance is succeeding to get to the necessary temperatures quickly, go out and buy a new one. 

When using settings on a slow cooker you should remember this temperature tip: one hour on high is equal to two hours on low. This should help in making determinations regarding cooking times. If you run short on time, this conversion could help quicken your cooking process. You can try out using one hour on high or two hours on low with this recipe: Slow Cooker Chicken Enchilada Soup

Defrosting food before putting it in the slow cooker is a mandatory guideline. Nothing can ever be put in the slow cooker in a frozen state. As it was stated earlier, it is imperative that food reach 140 degrees in the slow cooker as quickly as possible to avoid any food safety issues. This would be impossible to attain when putting a frozen item in your cooker. 

To avoid unwanted bacteria in your food always make sure to remove your cooked food from the slow cooker or liner before putting into the refrigerator. Many liners can be made of thicker materials and would make it difficult for your cooked item to cool down quickly enough if it stayed in the slow cooker. Just as it needs to cook at a certain rate, it also needs to cool down at a certain pace to avoid a bacteria build-up. 
Tips for How and What to Put Into Slow Cooker
Here are some things to think about when using your slow cooker. There are some important tips all slow cooker users should be aware of to make the highest quality food while keeping  food safety issues to a minimum. 
Always remove the skin from any poultry products. For meat products it is important to take away as much fat as possible. Since the cooking process is lengthy, fats can tend to melt and may cause your dish to have a thicker texture than desired. 

It is not necessary to buy the most expensive cut of meat to use in your slow cooker. All meat becomes soft and tender after simmering in your cooker for 6 to 10 hours. Try this recipe: All Day Slow Cooker Beef Stew 

The rule of thumb for pork roasts and beef roasts you will cook in the slow cooker:  roasts require 8 hours of cooking time on low. This is extremely important to remember for health and safety purposes. You never want to undercook your meat. You and your guests could become ill and that would not be a great ending to your dinner party. 

It is important to get in the habit of not filling your slow cooker more than one-half to three-fourths of the way. You may run the risk of not thoroughly cooking all of your food if you build your ingredients up higher than that. 

If you want to help thicken the juices of your dish, sometimes removing the lid can help that process. The change in air can change the dynamics of the juices. Also, if you want to make your flavors more intense, cooking on high may accomplish that goal. 

Ingredients that are put on the bottom of a slow cooker tend to cook faster. It is a good idea to put ingredients such as root vegetables on the bottom, as they may need a longer period of time to cook properly. Meat should never be put on the bottom as it tend to cook more quickly and could get dried out quicker. 
References:
Your slow cooker is also wonderful for cooking meat dishes. Here are 23 meatball recipes to try out for your next big party. Some make terrific appetizers and some can fill you up and serve as the main dish for a meal. 
Free recipes, giveaways, exclusive partner offers, and more straight to your inbox!
Tags / Related Topics
Your Recently Viewed Recipes

Something worth saving?
SAVE all your favorite recipes
ADD personal notes
QUICKLY reference your recipes