365 Days of Slow Cooking Cookbook Review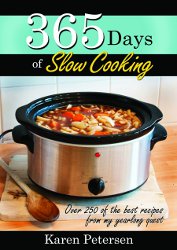 "Karen Petersen's 365 Days of Slow Cooking cookbook is a great guide for slow cooker owners who are looking for a complete collection of recipes that can be made in a slow cooker, from appetizers and salads, to desserts and main courses, this book has a wide selection--with more than 250 recipes! A mom herself, Petersen understands what recipes will appeal to a family at the dinner table. Conveniently, Petersen ranks her own recipes in the book. Also , she offers some do's and don't's on how to use and maintain the slow cooker, itself. Her book proves that nearly anything can be made in a slow cooker--and be tasty too!"
"If you have any interest in using your slow cooker to its maximum potential, then this cookbook is 100 percent for you. I could not believe how thorough and varied this cookbook actually is. From appetizers to desserts and everything in between, this cookbook has just about every conceivable slow cooker recipe. It's a no fuss book that is all about recipes. Author Karen Petersen's star rating is helpful in narrowing down which recipe to start with first. Plus, as someone who cooks in the kitchen with a cookbook in hand, I loved that it had a spiral bounding. That way, I can keep track of the recipe without destroying the binding. After reading this cookbook, I'm now excited to bust out my slow cooker and try some of her recipes."
"If you love your slow cooker…or even if you aren't quite sure about it yet…you're going to love Karen Petersen's book, 365 Days of Slow Cooking. Her concept reminds me of a movie I absolutely adored, Julie and Julia – you know, where the girl decides to make one different recipe from the Julia Child cookbook every day for a year? With Karen's book, you have the opportunity to do the same thing, but in a MUCH easier way! I love my slow cooker and am always looking for new and creative ways to use it, and 365 Days of Slow Cooking does not disappoint. Karen includes tips for how to use your slow cooker, hundreds of recipes, and each one is rated. I've been wanting to try making steel cut oats in my slow cooker, and with this fantastic book, I have options for that and other delicious-looking breakfasts that I hadn't even thought of. Did you know you could make waffles and sausage in a slow cooker? Neither did I! It's not just about breakfast, either. Karen has yummy recipes for appetizers and dips, sides, salads, dinners, desserts, and lots more. A must-have book for any cook…or aspiring cook!"
"The 365 Days of Slow Cooking cookbook by Karen Petersen is loaded with ideas! If you're a fan of your slow cooker or you're trying to find ways to use it more, this cookbook is the perfect addition to your kitchen. With over 250 recipes there's no way you can read through this cookbook and not find something amazing to cook. Heck, you could plan a menu for the week this way! I personally use my slow cooker all the time during the fall and winter months, and often during summer too when life gets way too busy. There's nothing easier than tossing food in a pot, cover and go. I love that with this book I've discovered all new ways you can use your slow cooker, like to make Banana Bread (pg. 11), Mock Lasagna (pg 108) or Caramel Apples (pg. 154). There are so many possibilities with your slow cooker and this cookbook provides even more. Another cool thing about the cookbook, it includes the ratings for the recipes right there!"
"A year can be a long time or a short time, depending on how you spend your 365 days. For Karen Peterson, she decided to experiment: could she cook with her slow cooker every day for a full year? The answer, of course, is yes! And the result is her blog and cookbook of the same name, 365 Days of Slow Cooking. Peterson fills her cookbook with everything from appetizers/dips and breakfast recipes to desserts and breads/spreads. And of course, she has plenty of meat, pasta and soups/stews/chili recipes. Peterson only included the 3, 4, or 5 star dishes in the cookbook; readers interested in seeing 1 or 2 star rate dishes can do so on her blog. After a year of using her slow cooker, Peterson also has learned the tips & tricks of achieving the perfect slow cooker recipe – her do's and don'ts section at the beginning of the cookbook is definitely worth reading. If you have a slow cooker collecting dust in your pantry, this cookbook is a fabulous way to get started – and also try some recipes you never thought you could make in a slow cooker."
Free recipes, giveaways, exclusive partner offers, and more straight to your inbox!
Tags / Related Topics
Your Recently Viewed Recipes

Something worth saving?
SAVE all your favorite recipes
ADD personal notes
QUICKLY reference your recipes