Slow Cooker Corned Beef, Cabbage, and Potatoes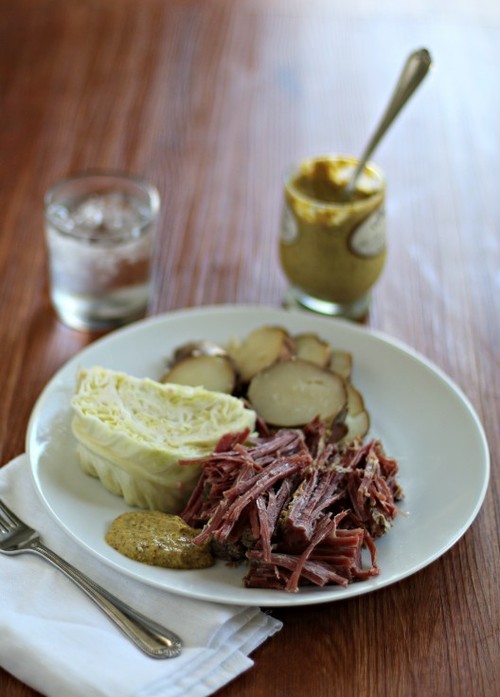 Slow Cooker Corned Beef, Cabbage, and Potatoes
This slow cooker corned beef and cabbage recipe for Slow Cooker Corned Beef, Cabbage, and Potatoes couldn't be easier. You simply need corned beef brisket, seasoning, red potatoes, cabbage, and water. Whether you're celebrating St. Patrick's Day or just wanted a good, old-fashioned corned beef meal, this slow cooker recipe for corned beef won't disappoint.
Notes
---
Corned Beef and Cabbage isn't Irish?
In the United States, consuming corned beef is a tradition often associated with Saint Patrick's Day, however corned beef is not actually considered to be an Irish national dish. The connection with the March 17th holiday specifically originates as part of Irish-American immigrant culture.
Irish-American immigrants used corned beef as a substitute for bacon in the late 19th century. Corned beef and cabbage is the Irish-American variant of bacon and cabbage, a much more well-known and popular Irish dish. During the Irish immigration to America, first generation of Irish-Americans sought the comforting tastes of their homeland, by resorting to what they could get their hands on. On St. Paddy's Day that meant boiled bacon. But, since the immigrants were too poor to afford the high price of pork and bacon products, they turned to the cheapest cut of meat available, which at that time was beef brisket.
Rather than boil the beef, the Irish adopted cooking methods from other cultures, which was easy to do in one of the largest melting pot cities of the time -- New York. Brining, or salt-curing meat, was an Eastern European technique that became popular. And if you're wondering where the term "corned" came from, it has nothing to do with corn. Instead, it refers to the corn-sized salt crystals used during the brining process. The post-brined beef was then paired with cabbage -- one of the cheapest vegetables available to the Irish immigrants at the time.
---
Serves6
Your Recently Viewed Recipes