How to Make Slow Cooker Chili: Tips and Recipes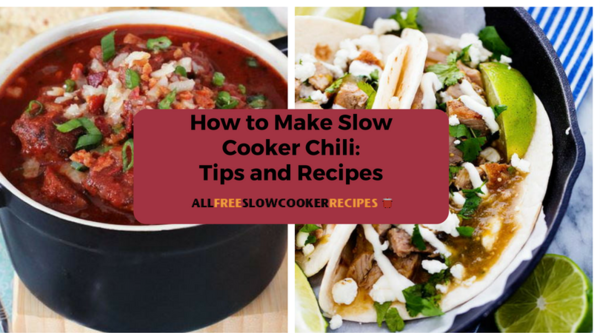 Making chili that you can be proud of requires some patience and care in the cooking process. There are many types of chili, but whichever type of easy slow cooker chili recipe you choose to prepare, it still takes some tinkering to really get it to the place you want it to be. You choose your meat and beans and other ingredients you would like to use, but then it is the tweaking of the seasonings, the length of cooking time and the thickness of your end product that will determine the outcome.

Chili is a work in progress. That's what makes it a fun endeavor. You have some control to change the flavor patterns and make it to your liking. Slow cooker chili is an easier endeavor than cooking on the stove. You can put all of your ingredients in the slow cooker without having to stand over the stove and worry about checking your dish every few minutes. The fear of it boiling over disappears with the use of your slow cooker. In How to Make Slow Cooker Chili: Tips and Recipes, we talk about how to make your easy slow cooker chili recipes the best they can be. Try some of these out the next time chili is on the menu. You will be incredibly pleased with the results.
Tips for Making Chili
Trying to make a fabulous chili dish for your next game day event? There is an art to making your best chili. We have some tips and guidelines to follow when you cook your next chili recipe. To cultivate the best taste and texture follow these instructions. You will see the difference in the outcome!
To make the best chili feel free to purchase economical cuts of meat. The slow braising technique suggested for chili does better with inexpensive stew meats like chuck roast, rump roast or sirloin. Ground meats are also good choices for your recipe. For vegetarian chili tofu cubes or crumbles are suggested instead of meat.

Take time to brown your meat first on all sides before putting in additional ingredients. If you put a piece of meat in the pot right out of the refrigerator it will not brown properly. The meat can end up steaming in its own brownish juices and lose its flavor content.

Beans are a big staple that most people include in their chili recipes. Kidney beans, pinto beans, black beans, and white beans are all worthy of being considered for your chili dish. Canned beans are acceptable for your recipe. Rinse off beans before adding if you are concerned they have a high salt content. Dried beans are actually the most preferred to use, as canned beans sometimes turn mushy. The dried beans should sit in salt water at least two hours before adding to your dish.

Getting the spices right for your chili recipe is a balancing act. All chili recipes should contain some cumin and coriander. Some Cayenne, chili powder, and paprika should also be highly considered. A touch of cinnamon, clove and a smidge of star anise may also add to your flavor content. You can purchase chili seasoning packets at the store as well. Putting each seasoning in and tasting your dish until you feel the mixture is just right is important in putting out the best final product. 

Water or store-bought stock would be fine to use, but the best tasting chili usually has stock that is homemade. 

Don't rush cooking your dish. If you rush your chili you could end up with beans that are only half-way cooked, meat that is bland and not thoroughly cooked and chili that has a thin consistency. Leave the proper amount of time for your chili to simmer into the ultimate great dish. 

Fresh tomatoes are also a great option to use in your chili. Many recipes call for canned or diced tomatoes. In any case, add in the tomatoes toward the end of the cooking process. 

Adding a little bit of Mexican chocolate, unsweetened chocolate, or cocoa powder will enhance some of the subtle flavors and help to add more depth to your dish. Brewed coffee or espresso powder can also be used to move your chili into a new flavor direction.

You should always serve toppings with your chili. Some popular toppings include shredded cheese, sour cream, fresh cilantro, and chopped onions. Corn bread is also very common now to pair with your chili. 
Types of Chili
There are a myriad of different types of chili recipes that are out there. Some came from different parts of America. Here are some you may want to try out. 
Your Recently Viewed Recipes