12 Savory Sweet Potato Slow Cooker Recipes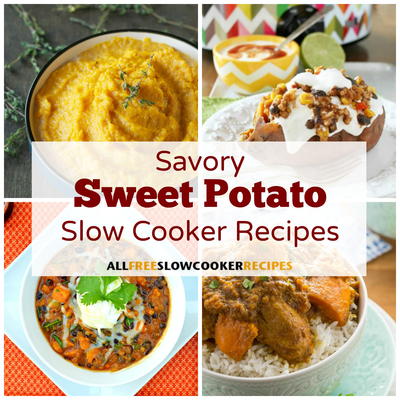 Sometimes the best slow cooker recipes come along with the change of the seasons. These 12 Savory Sweet Potato Slow Cooker Recipes will give you something simple and delicious to put on your holiday table or serve for a festive and seasonal spread. Make the most of this year's harvest, and make use of the vegetables of the season.

Sweet potatoes are great for so many reasons -- mainly because of how versatile they are to cook with. They make a great addition to any main course, and add a savory, yet subtlety sweet profile to any dish. It's one of the best veggies to make for a side or main course because of how easily it lends itself to melding with almost any combination of foods.

We all know that sweet potato recipes are made most frequently during the fall and Thanksgiving season, however, this is a veggie that vegetarians everywhere have loved since the beginning of time. Not only is it super flavorful, but it's also delicious and boasts some pretty awesome health benefits as well. Sweet potatoes are an excellent source of vitamin A, C, manganese, copper, and vitamin B6. Additionally, they are a good source of potassium, dietary fiber, niacin, vitamin B1, vitamin B2, and phosphorus. Basically, you can't go wrong if you throw these sweet spuds on the table.

Whether you choose to make a soup, a bowl of mashed sweet potatoes, or even a layered sweet potato lasagna, these sweet potato slow cooker recipes are bound to hit the spot this fall and beyond.


For more great recipes like this, subscribe to our free email newsletter!
12 Savory Sweet Potato Slow Cooker Recipes
Table of Contents
Your Recently Viewed Recipes