Slow Cooker Pork Chops with Vegetables and Gravy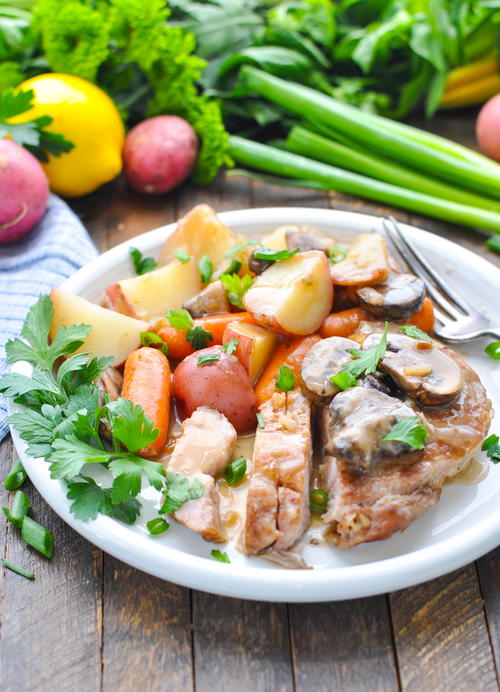 Slow Cooker Pork Chops with Vegetables and Gravy
From the blogger: "This is a one pot dinner that will warm you from the inside out! The tender and juicy Slow Cooker Pork Chops with Vegetables are coated in a creamy mushroom gravy for the ultimate cool weather comfort food! The recipe comes from one of my readers. Barb mentioned that she had just prepared these slow cooker pork chops for her Marine son who was returning to his base the next day 'after two way-too-short weeks at home.' If the dinner was good enough for Barb's son's special going-away meal, then I knew that it must be a keeper!

"The original recipe that Barb used was from Taste of Home, but I have used Barb's changes and my own adaptations here. The end result is a pot full of GOODNESS! Instead of dry, over-cooked meat, you're treated to tender, juicy pork chops, flavorful veggies, and a rich, creamy gravy. I can see why Barb's son enjoyed this last bit of home-cooked comfort before returning back to duty!

"After 3 hours on HIGH in my slow cooker, the potatoes were perfectly tender and the carrots were 'crisp-tender,' which is how we prefer them. Barb mentioned that she chops her carrots and potatoes in her food processor before putting them in the slow cooker because that way they turn out very tender. She also cooks her pork chops on HIGH for 2 hours and then on LOW for an additional 2 hours. Every slow cooker cooks at a slightly different temperature, so you just have to get to 'know' your slow cooker and figure out if it cooks hotter than others. Keep an eye on your meal the first time it cooks and turn it off when your veggies have reached the desired tenderness and your pork is cooked through."
Serves4
Slow Cooker Time HIGH3 hr

Your Recently Viewed Recipes