Cooking on a Budget: 12 Slow Cooker Budget Dinner Recipes
Bonus: Get our newsletter & special offers for free. We will not share or sell your email address. View our Privacy Policy

Slow Cooker vs. Pressure Cooker: What's the Difference?
Hint: The lid is more important than you might think.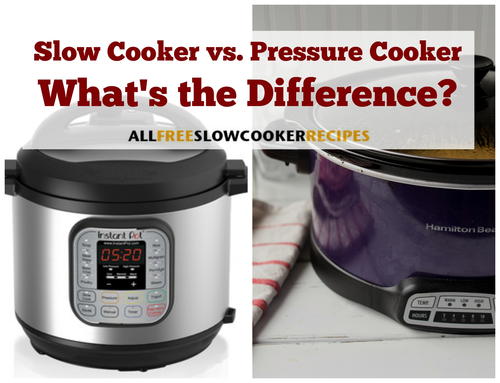 The main difference between slow cookers and pressure cookers is that a slow cooker works by trapping heat, whereas a pressure cooker traps steam and pressure. These two appliances function differently because of their lids.

Slow cookers use bands of heating coils (in the bottom and up the sides of the cooker) that heat up slowly and can remain at a constant temperature over a long period of time.

Pressure cookers use a heat source (either stovetop or electrical outlet) to turn any liquid that's inside of the pot into steam. The sealed lid prevents any of the steam from escaping which increases the pressure inside of the pot. This increased pressure raises the temperature and helps food cook faster.
The Lid: Slow Cooker vs. Pressure Cooker
The lid is the the reason why slow cookers and pressure cookers work differently.

In slow cookers, the lid sits on top of the cooker, but it isn't a pressurized seal. Water vapor collects under the lip of the lid and this prevents it from forming a pressurized seal on the cooker. The lid fits just tightly enough to keep heat from escaping, but without becoming pressurized.

In pressure cookers, the lid is sealed with a rubber gasket and stays locked while it cooks. To maintain the right amount of pressure in the pot, the lids of pressure cookers also include a valve. The valve opens if too much pressure is building in the pot and closes when the pressure is too low.

Slow Cookers: Pros and Cons
Pros:
+ Can be left unattended. Since slow cookers can safely be left unmonitored for long periods of time, it makes them a great choice for a busy week since dinner can be tready when you get home.
+ No danger of quick pressure release – Since pressure cookers cook using pressure, this pressure has to be safely released before the pot can be opened. For slow cookers, you can simply lift the lid off.

Cons:
– Takes a long time to cook. Since slow cookers cook with relatively low heat, the recipes take a long time to cook.
– Requires more hands-on preparation – For many recipes, food needs to be sautéed or browned beforehand. This is especially important for ground beef and pork chops.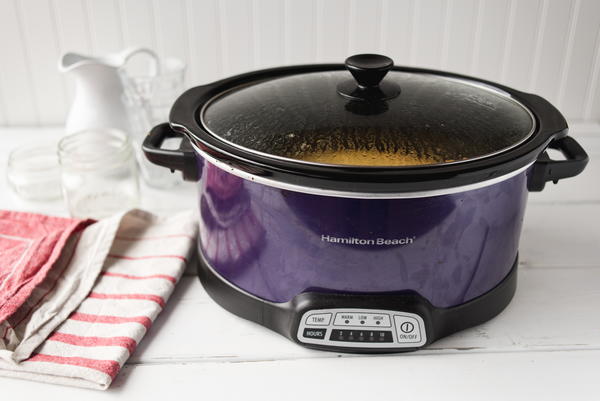 Pressure Cookers: Pros and Cons
Pros:
+ Closely mimics stovetop cooking – The high temperatures of pressure cooking make it possible to achieve caramelization and browning.
+ Quick cooking time – Pressure cookers can cut the cook time of traditional stovetop recipes in half!

Cons:
– Practice makes perfect – It does require some practice to master pressure cookers. It may take a few attempts to get the right results for a recipe.
– No peeking allowed – Pressure cookers don't have glass lids like slow cookers, so you won't be able to see your food while it's cooking.
– Pressure release can be difficult and possibly dangerous. NOTE: The valve should never be covered on a pressure cooker as it is an important safety feature. Learn about different methods of pressure release here.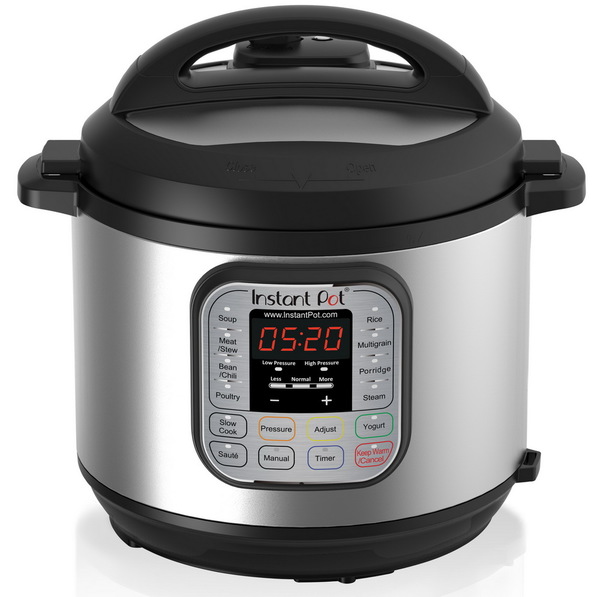 Two Types of Pressure Cookers

Stovetop pressure cookers – The stovetop models look more like traditional pots and usually require hands-on attention since the heat source comes from the stove.

          + Pros: Quicker cooking times than electric pressure cookers.
          – Cons: Requires hands-on attention – Stovetop pressure cookers require hands-on attention since they cook on the stove.
         
          To learn more about a popular brand of stovetop pressure cooker, check out RecipeLion's review of Fagor Rapid Express Pressure Cooker.

Electric pressure cookers – The electric types sit on the countertop so they look more like slow cookers. They are more hands-off than the stovetop versions.

          + Pros: Easy to use – Electric models are easier to use since everything from heat settings and cooking time is programmable. Plus, they can be left unattended.
          – Cons: Don't cook as fast. – It takes electric pressure cookers a longer time to reach pressure, which results in a longer cooking time.
To learn more about a popular brand of electric pressure cooker, check out our Instant Pot Review
The Verdict
Slow cookers use low heat over a long period of time, while pressure cookers use pressure and high heat to cook quickly.

Neither is better than the other; it just depends on what sort of cooking experience you are looking for!
Which do you prefer: slow cooker or pressure cooker? Let us know in the comments below!
Free recipes, giveaways, exclusive partner offers, and more straight to your inbox!
Tags / Related Topics
Your Recently Viewed Recipes

Something worth saving?
SAVE all your favorite recipes
ADD personal notes
QUICKLY reference your recipes