Cooking on a Budget: 12 Slow Cooker Budget Dinner Recipes
Bonus: Get our newsletter & special offers for free. We will not share or sell your email address. View our Privacy Policy

How to Make Your Own Caramel Apple Bar
The candy apple bar tutorial you've been looking for!

Updated July 27, 2023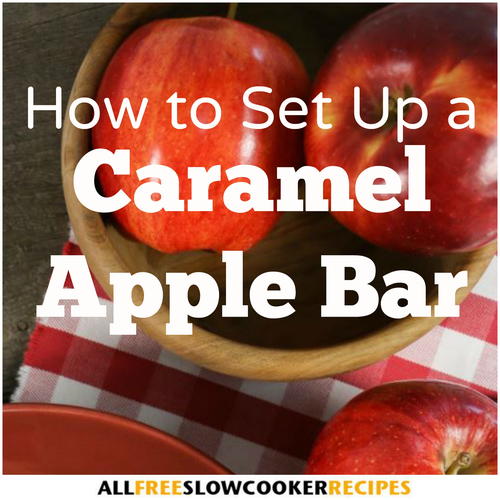 There's no better way to welcome the fall season than with a homemade caramel apple which is why we've put together this guide on How to Make Your Own Caramel Apple Bar.

Take your fall entertaining skills to the next level with the help of these tips and tricks (and your slow cooker!). Caramel apple bars are a popular choice for weddings, birthday parties for kids, Halloween parties, and fall harvest parties.

If your favorite thing about autumn is biting into a delicious caramel apple, you are in luck. There's a lot that goes into making the perfect caramel apple, and we've outlined everything you need to know. Learn how to choose the right variety of apple, prep the apples for dipping, know how long caramel apples last, and how to store them in our comprehensive guide.

Plus, you'll even find a printable version of our caramel apple recipe as well as helpful tips for making your caramel apple bar run smoothly!


For more great recipes like this, subscribe to our free email newsletter!
When Were Caramel Apples Invented?
The 1950s. Dan Walker, an employee of Kraft foods, is often credited as the inventor of the caramel apple. To this day, Kraft still includes a recipe for caramel apples on their bags of caramels.
Caramel Apples Vs. Candy Apples: What's the Difference?
While both treats feature apples served on a stick, there is actually a big difference between candy and caramel apples but they are often confused for one another.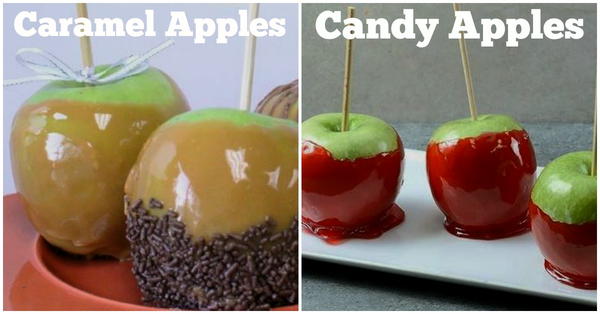 Caramel apples are dipped in melted caramel. They are also sometimes called taffy apples, especially if the caramel apple is rolled in peanuts.

Candy apples are covered in a hard sugar candy coating that is often cinnamon flavored. They are also sometimes known as toffee apples.
Choosing the Apples
Best Apples for Caramel Apples
Since caramel is so sweet, it's a good idea to choose an apple that is more tart than sweet. You'll want to choose apples that have a firm crunch that can stand up to the caramel coating. Depending on your preference, there are a lot of options. Some good varieties to use are: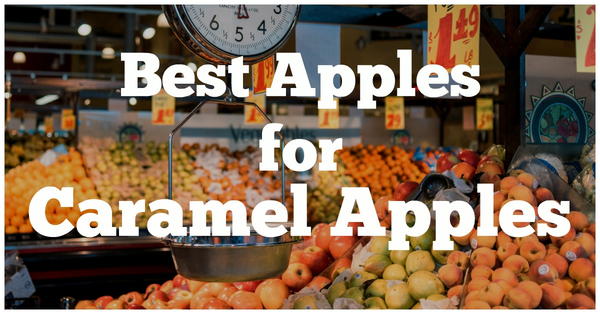 Granny Smith -  This is the most popular variety used for caramel apples, but can sometimes be too sour. Expect a tart flavor and firm texture.

      Gala - These apples are firm and crisp and are usually smaller than other types, which makes them a good choice for caramel apples.

      Pink Lady - These are firm and tart, but aren't harvested until later in the season. They aren't readily available until November, so they would be a good choice for late fall.
Prepping the Apples
Step 1: Remove the stem. The easiest way to do this is to twist and pull.

Step 2: Wash the apples. It's important to wash fresh produce no matter where you buy it.

While the peeling on apples is naturally waxy, if your apples are from the grocery store, they might be coated in additional wax. (Any added wax is food grade and is safe to eat, but is sometimes added to improve the shelf life.)
If you don't remove the waxy coating from your apples, it may be difficult for the caramel to stick.

Luckily, there is a way to remove the wax using natural ingredients! According to Joy in My Kitchen an easy way to remove apple wax is to add lemon juice and baking soda to warm water and scrub the apples with a vegetable brush.

Step 3: Insert a stick. Wooden sticks, skewers, and popsicle sticks are popular choices. However, chopsticks or even twigs from trees would work. (To see a fun example, check out this recipe for Fall Wedding Caramel Apple Bites from our friends at AllFreeDIYWeddings!)
Alternative Idea – Put apple slices on sticks for dipping!

* If you're hosting guests with young children, sliced apples will be much easier to serve.
* To keep apple slices from turning brown, toss the slices with lemon juice.
How to Make Caramel Apples
What You Need:

*  2 11-ounce bags of caramel candies
*  3 tablespoons water (can add more if caramel is too thick)
*  8 apples (no cuts or bruises)
*  Assorted candies and toppings
*  Wooden Sticks
*  Cupcake liners
*  1.5- to 4-ounce slow cooker

Click here to get a printable PDF version of the recipe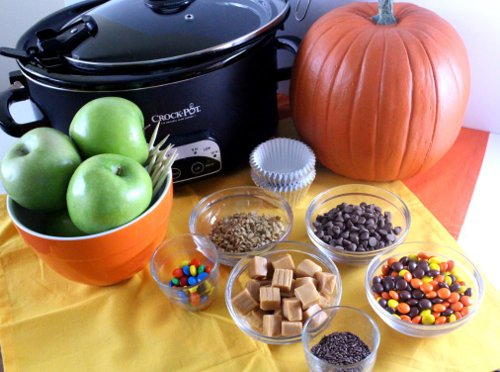 Instructions

1. Unwrap the caramels and add them to the slow cooker along with 3 tablespoons of water.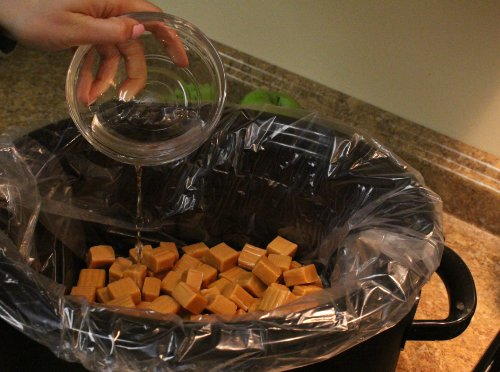 2. Cover and cook on low for 1-2 hours, stirring about every 20 minutes.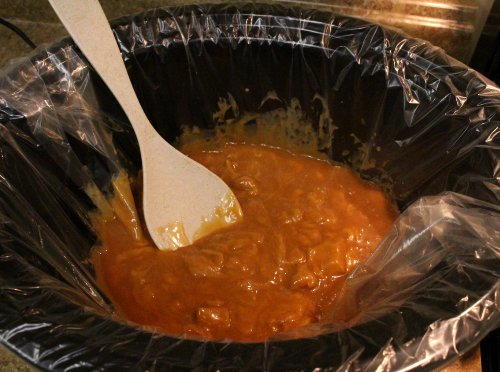 3. Remove the stems from the apples by twisting them and insert the sticks into the stem holes.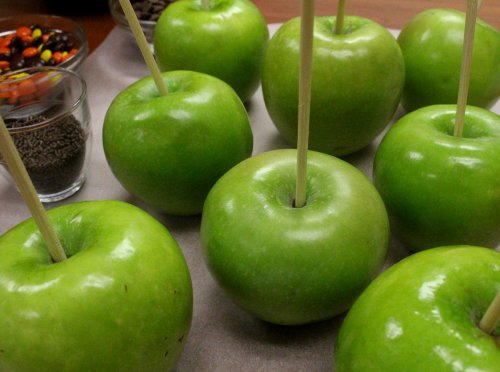 4. Once the caramel has melted completely, use a spoon to ladle the caramel over the apple. Swirl the apple to allow excess caramel to drip off.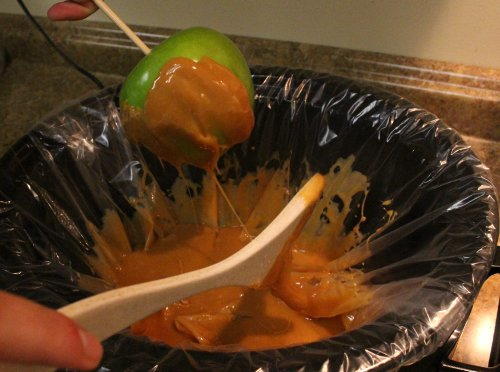 5. Cover the apples with your favorite candy and chocolate toppings.

Nuts – Peanuts, pecans, walnuts, almonds
Candy – M&Ms, chocolate chips, toffee bits, Reese's Pieces
Sundae toppings -  sprinkles, melted chocolate,
Other ideas – shredded coconut, cinnamon sugar, crushed graham crackers, melted white chocolate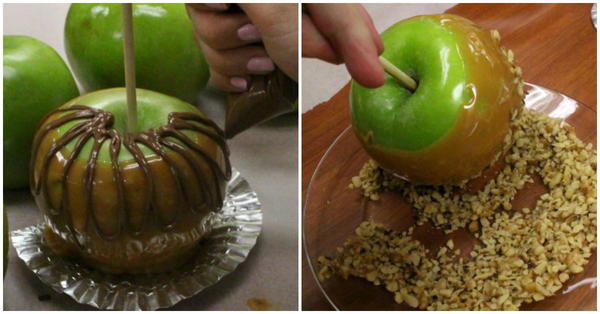 6. Let the dipped apples cool on parchment paper, a silpat, or buttered wax paper. Enjoy!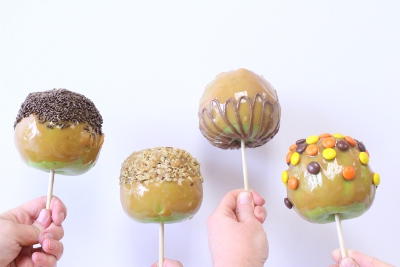 Storing Caramel Apples
How long do caramel apples last?

If stored in the refrigerator, caramel apples can be safely eaten for up to a week after they are made.

Where should caramel apples be stored?

Caramel apples should always be stored in the refrigerator. It is especially important to refrigerate caramel apples with sticks. According to a CBS News interview with Kathleen Glass, associate director of the Food Research Institute, when apples are poked with sticks, some of the juice leaks onto the surface which gets trapped under the hot caramel. This moisture can lead to bacterial growth. Refrigerating caramel apples will prevent bacteria growth.
Tips for Making Caramel in the Slow Cooker
Add a pinch of salt to the caramel to balance out the sweetness
 
Use a slow cooker liner for easy clean up! Hardened caramel can be extremely difficult to remove from a slow cooker. To learn more about slow cooker liners, check out our review of PanSaver Slow Cooker Liners.
 
Not sure how much caramel you need? According to Eat Think Be Merry, "1 pound of caramel will cover 4-5 medium apples and 2-3 big apples."
Recipes for Caramel
Slow Cooker Caramel
- All you need is a can of sweetened condensed milk for this recipe!
Clean Eating Caramel
- This dairy-free recipe is safe for those following a dairy-free diet or a vegan diet.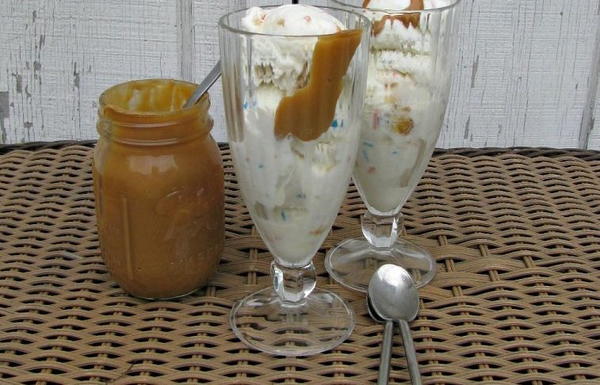 Tips for Hosting a Caramel Apple Bar Party
Label everything! If you're including different toppings for decoration, guests will want to know what they're working with. This will especially be appreciated by guests with food allergies.

Use cupcake liners to organize the toppings. Lining each cup of a muffin tin with a cupcake liner will make for even easier cleanup!

Make sure there are plenty of napkins. Caramel apples can get messy, so make sure there are lots of napkins available.

Provide extra cupcake liners. For easier eating, guests can poke a hole through the center of the liner. Poke the caramel apple stick through the center of a cupcake liner. The liner will as act as a "bowl" to catch any crumbs or extra toppings. It's an easy, mess-free way to eat caramel apples!

Don't forget about beverages! Coffee and tea would be great to serve alongside caramel apples. If you're hosting kids, provide hot or cold apple cider. For more recipe ideas, check out these easy drink recipes that you can make in a slow cooker.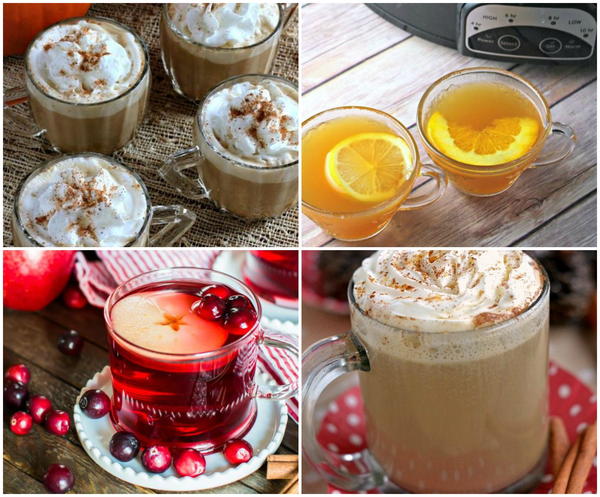 Provide some salty snacks. Eating lots of sugar can be overwhelming, so it's a good idea to counteract the sugar with non-sweet snacks such as nuts, snack mix, pretzels, or popcorn. If you'd like some snack ideas that you can make in your slow cooker, check out the recipes below!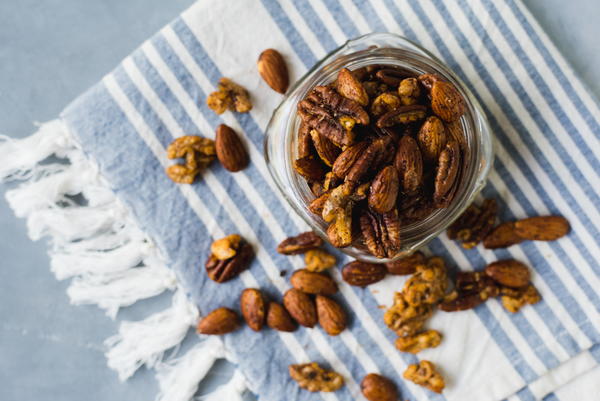 Make some appetizers! Delicious food makes every party more fun, so consider making some simple, yet satisfying dishes. Small slow cookers work great for dips!
What do you love most about the fall season?
Free recipes, giveaways, exclusive partner offers, and more straight to your inbox!
Tags / Related Topics
Your Recently Viewed Recipes

Something worth saving?
SAVE all your favorite recipes
ADD personal notes
QUICKLY reference your recipes