Cooking on a Budget: 12 Slow Cooker Budget Dinner Recipes
Bonus: Get our newsletter & special offers for free. We will not share or sell your email address. View our Privacy Policy

Slow Cookers Keep Your Budget Low
Great tips for your keeping food budget low, while making delicious food in your slow cooker
By:
By Marah Altenberg, Editor, AllFreeSlowCookerRecipes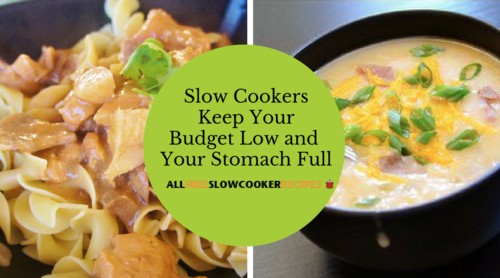 Many people these days are turning to their slow cooker to help them keep more cash in their wallets. Your slow cooker could become your biggest budget buster, as you can make numerous inexpensive meals in this popular appliance and the savings don't stop there. Besides using inexpensive ingredients, making larger recipes that you can freeze, you also have the ability to save in areas such as your electricity bill. A way to cut back on your grocery bill is by using your slow cooker for many dishes, from main dishes to desserts to create some fantastic food without emptying your wallet on a monthly basis. The copycat restaurant recipes we have for you, especially ones that mimic some of your favorites at a restaurant, will also save you money. Since the recipes you are making at home are even better than restaurant quality similar recipes, it is an easy choice to stay home and eat and give your wallet the breather it needs. 

You can buy less expensive meat when planning on making a dish in your slow cooker and you can buy it in bulk, which will cut down on your overall costs considerably. You can also buy a whole chicken, rather than buying individual pieces, where you can see the costs add up tremendously. The less expensive meat will become incredibly soft and tender after cooking in your slow cooker for 8 hours and wow whoever consumes it on the very first bite. More expensive meat is not necessary to assure that your dish will come out tender and juicy. Cheaper meat does the job just as well and still tastes divine. Dry beans can be cheaper than ones you would buy in a can and will taste just as good or even better after being cooked in your slow cooker. You can also cut back on your costs for other types of ingredients such as vegetables and grains. Your slow cooker budget friendly recipes will help pull the most incredible flavors out of all of your ingredients, whether they are the most expensive or not.

Planning your meals ahead also allow you to spend less when you go the grocery store. If you have specific recipes, you can buy exactly what you need for them and avoid last minute trips to the grocery store or fast-food restaurants where you inevitably spend more when your plans are less thought out. It is extremely easy to spend more when picking up dinner at a fast-food place or at a local restaurant. But if you can make the recipes that mirror some of your favorite dishes you can avoid these expenses compeltely. 

Your energy bill will also experience signifiant savings from using your favorite slow cooker budget recipes. Your dishwasher is also used less when taking advantage of your slow cooker. You will not have endless pots and pans to clean. You put your ingredients in your slow cooker, which also can accommodate a liner inside, keeping this appliance from getting terribly messy and dirty. You simply wipe out the main pot of your slow cooker and you are finished. Your dishwasher may actually get lonely from lack of use, but the cost savings is truly tremendous. Your house will not heat up like it does every time you put on an oven. This is a great way to reduce your air conditioning bills, as your house will stay temperate while your slow cooker is in use.
 
Make these recipes for a crowd and stay within your tight budget. We are excited to share with you some of our collection that contains budget-friendly recipes your guests will truly enjoy eating. Check out:
Slow Cooker Aids in Lowering Your Budget
Here are some guidelines and ideas of how to lower your budget by using your slow cooker to cook weekly meals, casual dinners, holiday dishes, and more.
Use copycat recipes. Make recipes that copy some of your favorites at local restaurant chains. You will find that some of these recipes will even come out better than the ones at the restaurant. You will see there is no need to go out and spend three times the amount of money to purchase the same dish that you can make yourself. 

Using your slow cooker recipes will encourage you to go to the store and purchase just the ingredients you need to fulfill your recipes. You can also look for the cheapest version of each ingredient and your slow cooker will still simmer everything into the most delicious dish you have ever tasted. Many of the slow cooker recipes have low budget ingredients that add up to amazing low-cost main dishes. 

You can also purchase ingredients in bulk for your slow cooker. You can purchase a large amount of meat or poultry and cook it all up and then have leftovers. It is a great idea to make larger portions than you need and freeze the remainder for future meals. When you buy in bulk the price is definitely less and you will be happy when you have several freezer meals to call on when a busy weeknight comes a calling. 

Slow cookers can also help bring down the price of your electric bills. When you have your oven on all of the time you are using a large amount of electricity to run the oven, to keep your house cooler by running the air conditioning when it heats up from cooking and to run your dish washer more often. Using your slow cooker will cut out many of these costs as it is a much smaller appliance, does not heat up your home, and requires less dishes to be used for the cooking process. Cooking this way is a winning situation when it comes to saving money. 

You can also take advantage of the large number of vegetarian recipes your slow cooker can make. These recipes, since they are made without meat, tend to be much cheaper and healthier then most of the recipes that contain meat or chicken. Make sure your weekly meal plan has one or two of these vegetarian options on the list and you will see your food costs continue to drop. 
Bonus: 5 of Our Favorite Budget Recipes
Try out some of our favorite budget recipes for your next weeknight meal. You will see the cost savings and be enticed to try even more of our slow cooker recipes that will help keep your wallet full and your budget on track. 
Your slow cooker is fabulous at making dump and go desserts, which means desserts you do not totally need to make from scratch, yet they taste like they were. You can use a cake mix for the foundation of your dessert dish and throw in some extra ingredients and cake will come out bakery quality. These are quick and easy to make as well. Try out some of these recipes from:  10 Dump and Go Desserts: Cherry Dump Cake, Chocolate Dump Cake and More Dump Cake Recipes
Free recipes, giveaways, exclusive partner offers, and more straight to your inbox!
Tags / Related Topics
Your Recently Viewed Recipes

Something worth saving?
SAVE all your favorite recipes
ADD personal notes
QUICKLY reference your recipes